In Stock
Can-Am® Edtion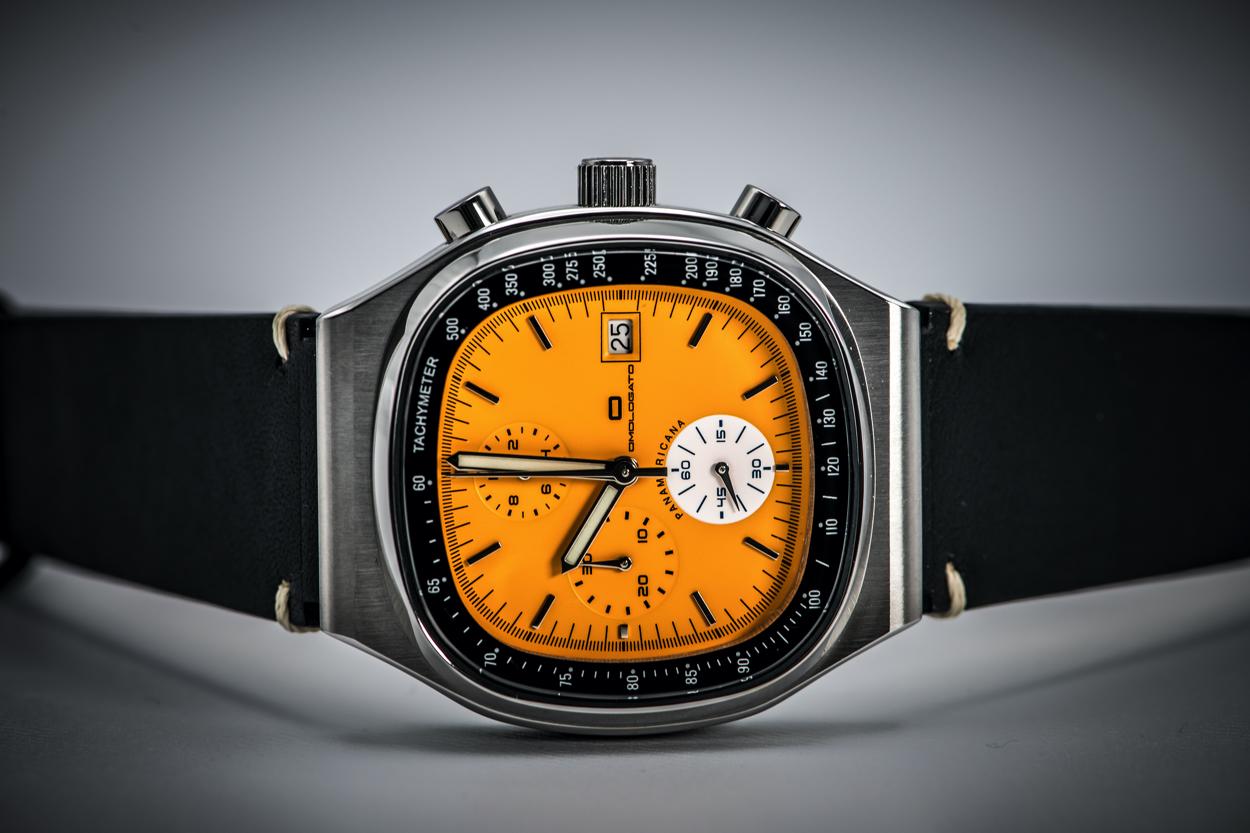 Design Ethos
As the story written below by our friend Henry says, this is probably the most epic racing series ever. The colours on the dial come from the Mclaren and Lola race cars and the digit fonts from the numbers used on the side.
Can-Am®  - Written by Henry Hope-Frost.
Take a selection of the world's fastest and most versatile drivers, equip them with massive, purpose-built, V8-powered sports-racers, unleash them around North America's finest road courses and see what transpires.
That's exactly what happened in the almost-mythical and much-lamented Canadian-American Challenge Cup in the second half of the 1960s and first half of the '70s.
Running to motorsport's governing body the FIA's Group 7 regulations, featuring unlimited engine capacity and precious few other technical restrictions, Can-Am encouraged free-thinking from designers and engineers and required supreme bravery from drivers.
As a result, some outrageous machines appeared from inventive and imaginative brains at Chaparral, Lola, McLaren and Porsche. And with them came such wacky and wonderful science as 8-litre, 1000bhp engines, sophisticated, cockpit-adjustable aerodynamics and space-age materials.
With big-name aces, many of them Grand Prix heroes, on the driving strength – think John Surtees, Dan Gurney, Phil Hill, Denny Hulme, Bruce McLaren, Peter Gethin, Jackie Stewart, Peter Revson, George Follmer, Mark Donohue and Jackie Oliver, all of whom won races – the series was as popular as the cars were powerful.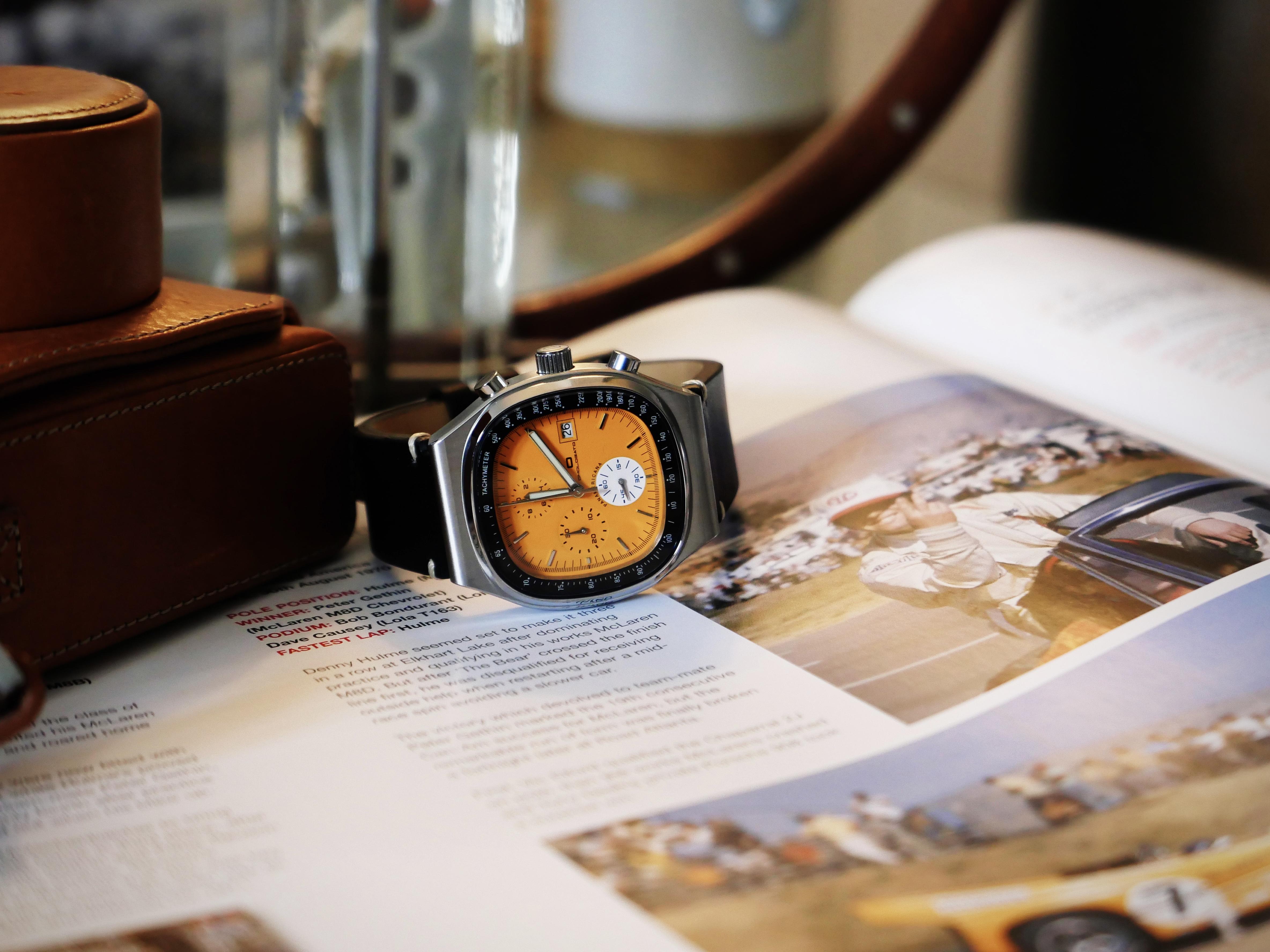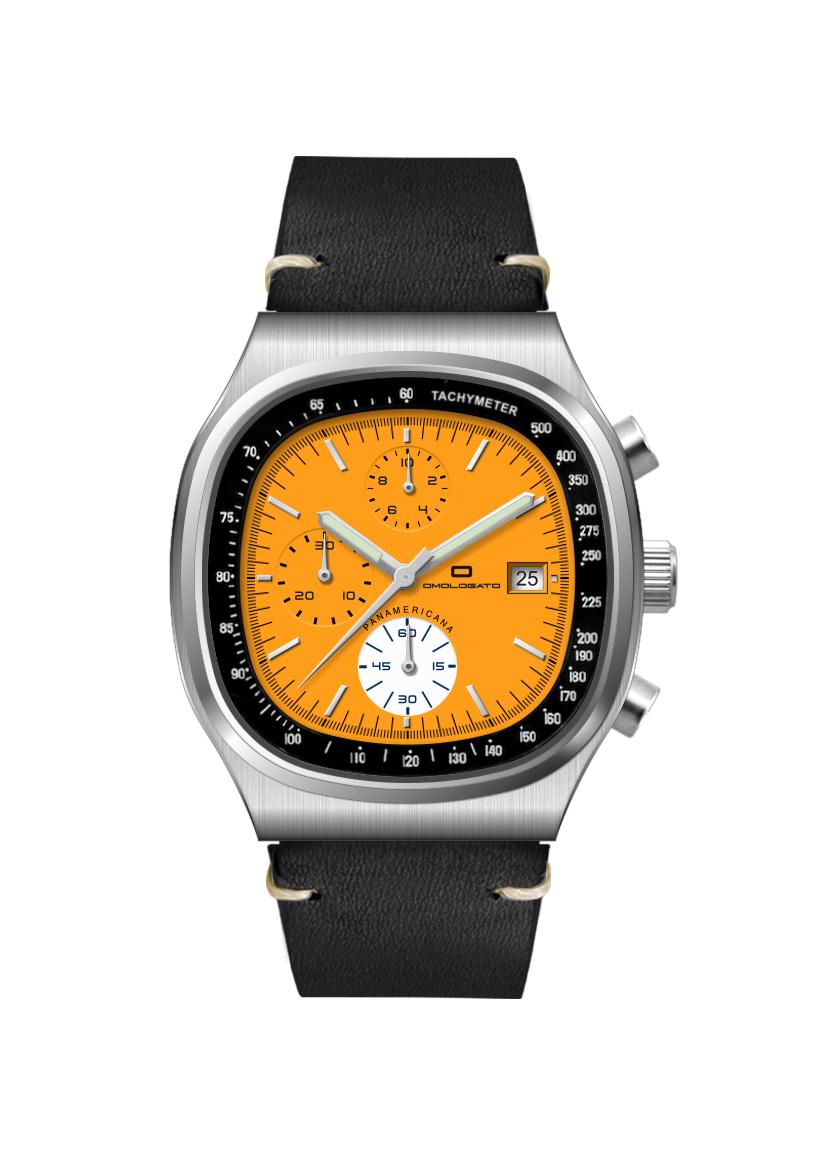 The all new P A N A M E R I C A N A Chronograph brings in a new phase to our watch design. The clean dial details are contrasted by vibrant colours schemes from across the Americas, all housed in a bespoke Stainless Steel case. Features include a matt dial, anti-reflective sapphire glass and Swiss movements. 
P A N A M E R I C A N A takes us in to a new direction of watch design.
Each watch will be individually numbered.
P A N A M E R I C A N A is a registered trademark owned by Omologato Ltd for watches Reg no UK 00003203610
TECH SPEC :
Case : Stainless Steel 316L 41MM diameter - 10mm depth
Dial : Tobacco with a sunray finish
Strap : Italian heavy grain woven leather 20mm. Length 20mm
Glass : Flat sapphire lens with anti-reflective coating 
Details : Flat black and white tachymeter at the edge of lens
ATM : 5 ATM water resistant
Movements : Swiss Ronda 3540 Chrono Date Meca-Quartz Movements