About Us
---
With over 25 years professional watch making experience, we have designed and manufactured for a number of well known motorsport brands before we launched our very own - Omologato®
Each Omologato® watch is carefully hand assembled and uses accurate and reliable Japanese movements that are guaranteed for 2 years for faults on mechanisms. Every piece is then inspected personally by no less than 4 different QC personnel before it's despatched.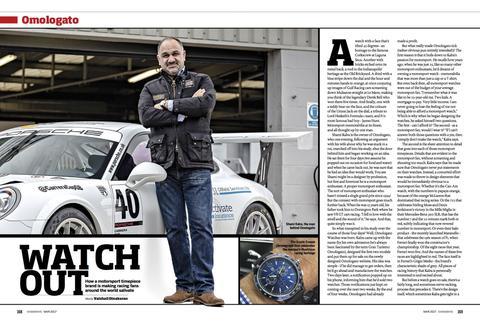 The Founder - Shami Kalra is passionate about Motorsport
The term peace of mind is used often, but we really do offer it with our 14 day no-quibble refund policy as long the watch hasn't been worn and it is returned in its original packaging - see our terms and conditions for full details.
We also offer a No Lemon policy - if on the very rare occasion we have to repair a watch more than twice, we will replace it free of charge with a brand new piece.
All your purchases are also covered by the buyer guarantee.
A lot of people have asked us about mechanical or automatic movements. We want to remain affordable, so using high quality battery powered Japanese or Swiss movements allows us to remain at a price level that most can afford.
#TeamOmologato
Finally when you buy from us, we don't forget about you. We run an event called #ChronosAndCars in association with Porsche Retail UK where we actively invite racing heroes and customers to come along and share breakfast with us on a Sunday morning. You become part of #TeamOmologato. More details on the #ChronosAndCars page
Any questions? You can email - sales@omologato.co.uk or Tweet @omologatoOro
If you want to call us and have a chat, our number in England is +44 1753 622555 - you'll be answered by a dedicated employee - not a call centre.
Our office hours are 10am to 7pm Monday to Friday.
Omologato Ltd registered in England and Wales. Registration No. 09680148