Can it be 20 years since Alonso's maiden victory?
Can it be 20 years since Fernando Alonso won his maiden Formula 1 Grand Prix? Yes! To the very day!
24 August 2023
If you follow me on Twitter/X - @TheBishF1 - you will know that I like anniversaries, and that daily I Tweet/X using the hashtag #OnThisDay. I am writing this blog on the morning of Thursday 24 August - and, so fast does time pass for those of us who are getting on in years, that it truly amazes me to be able to state that Fernando Alonso scored his maiden Formula 1 Grand Prix win on this day (or #OnThisDay) 20 years ago. But it is true.
I have always had a soft spot for the race concerned, which took place on a warm, dry, sunny day in Budapest. The reason for that is that I was then the editor in chief of F1 Racing, now known as GP Racing owing to difficulties with trademarks (but that is another story), and the cover image/treatment of the issue that was on sale at the time was one showing young Fernando Alonso and young Kimi Raikkonen glaring moodily into the lens of ace photographer Neil Cooper, backed by the cover-line 'IT'S THE KIMI v FERNANDO SHOW: YOU'RE LOOKING AT THE FUTURE OF F1'. Prescient? You bet! Just days later not only did Alonso win the Hungarian Grand Prix but also Raikkonen finished second. No-one else was even close. Indeed, Alonso lapped Michael Schumacher, who had become world champion in all of the past three years, and I remember sitting stupefied in the Hungaroring press room as our monitors flashed up the message 'WAVED BLUE FLAGS FOR CAR NUMBER 1'. That simply did not happen to Ferrari drivers in those days.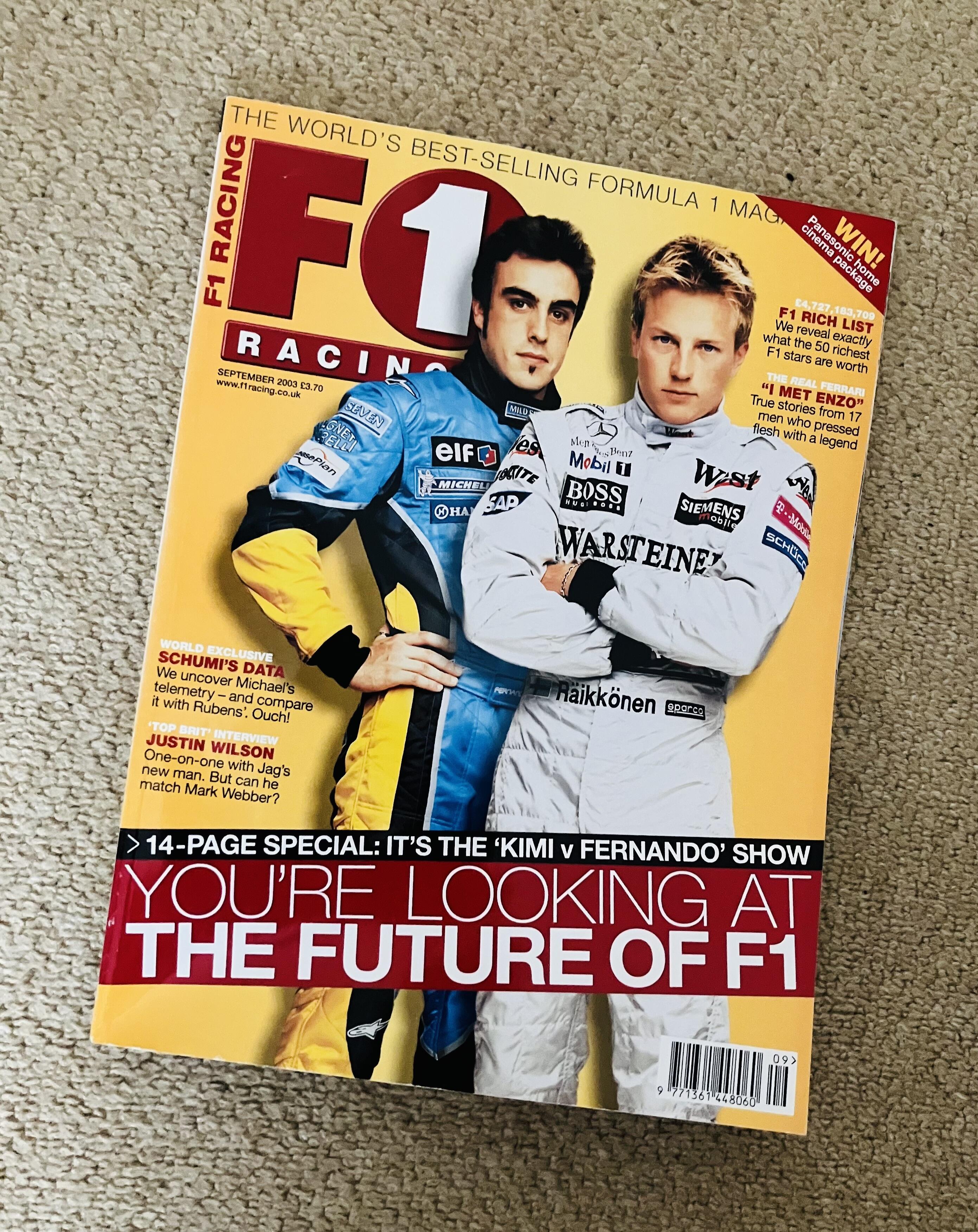 Raikkonen was then 24, and had already won a Grand Prix, at Sepang, six months before. He was in his third full season of Formula 1. Alonso was two years younger, and was in his second full season of Formula 1. But in his first, 2001, he had impressed the critics yet had failed to trouble the scorers, but only because the cars he had been racing, the Minardi PS01 and PS01B, had been slow: there is no other word. His best result of the year had consequently been 10th, at Hockenheim, but in those days only the first six scored points. He DNF'd seven times that season, too, and DNS'd once, at Spa, owing to a broken gearbox prior to the start.
He sat out the following year, 2002, spending it testing for Renault, racking up plenty of miles at Barcelona, Valencia, Jerez etc in so doing. Moreover, he drove those testing miles is a decently competitive car, the Renault R202, in which Jenson Button finished seventh in the 2002 drivers' world championship and Jarno Trulli eighth. Good though those two lovely guys' performances were, it was becoming obvious that Alonso might be something special, for his testing form was often very impressive, sometimes prodigiously so. Either Trulli or Button would surely lose of out to the young Spaniard for 2003, and in the end it was Jenson. Personally, I think that was the wrong choice, and I wrote as much at the time. Alonso-Button would have been a strong driver line-up at Renault in 2003.
But, instead, it was Alonso-Trulli, which was also a good pairing. Jarno was vastly the more experienced of the two, now in his seventh full season of Formula 1, and he kicked off 2003 with two solid fifth places in Melbourne and Sepang. Fernando was seventh in Melbourne - but, shocking us all, he was third at Sepang. Not only that, but he had started the race from the pole. Two weeks later, at Interlagos, he was third again. Trulli was eighth. Now Fernando had the bit between his teeth. He was sixth at Imola, second in front of his increasingly adoring fans in Barcelona, fifth at Monaco, and fourth in Montreal, Nurburgring and Hockenheim.
Next up was Budapest. Alonso took the pole again, thanks to a scintillating lap 0.922sec better than the fastest tour produced by Trulli, who qualified sixth. Fernando made a clean start, led from the off, and put the hammer down straight away. He was seven seconds ahead of the field after only three laps and 21 seconds to the good after just 13. His pit stops went well and he ran out the winner, to the manner born.
That day he became the youngest driver ever to win a Formula 1 Grand Prix, beating the previous record of Bruce McLaren, which he had set at Sebring, in 1959, in a Cooper, 44 long years before. Afterwards Alonso said: "It's a dream come true. I'm only 22 years old and I already have my first Grand Prix victory. I hope I have a long Formula 1 career with lots more victories." I think we can all agree that that was pretty prescient, too.
Today, 20 years later, as I write, he is at Zandvoort. He has won 31 more Grands Prix since his stunning debut win. Now, at 42, still as fit as the proverbial butcher's dog, and as hungry too, he will be aiming to put that right. Max Verstappen will take some beating, obviously. He may even be unbeatable. But Alonso's Aston Martin will have the benefit of some useful aero upgrades, and Zandvoort may suit it.
I worked with the driver (Fernando Alonso) at McLaren in 2015, 2016 and 2017, and I worked with the team (Aston Martin) in 2021 and 2022. For old time's sake, I would love to see them win together on Sunday.
Matt Bishop
The Omologato AM '59 Celebrates the historic maiden win for Aston Martin at Le Mans in 1959
Details HERE