In Stock
A tribute to Aston Martin's first Le Mans win in 1959.
Bespoke Stainless Steel case with SEIKO VK64 Meca-Quartz Movements
Anti reflective sapphire glass
Green sunray dial
Silver subdial
Yellow marker at 59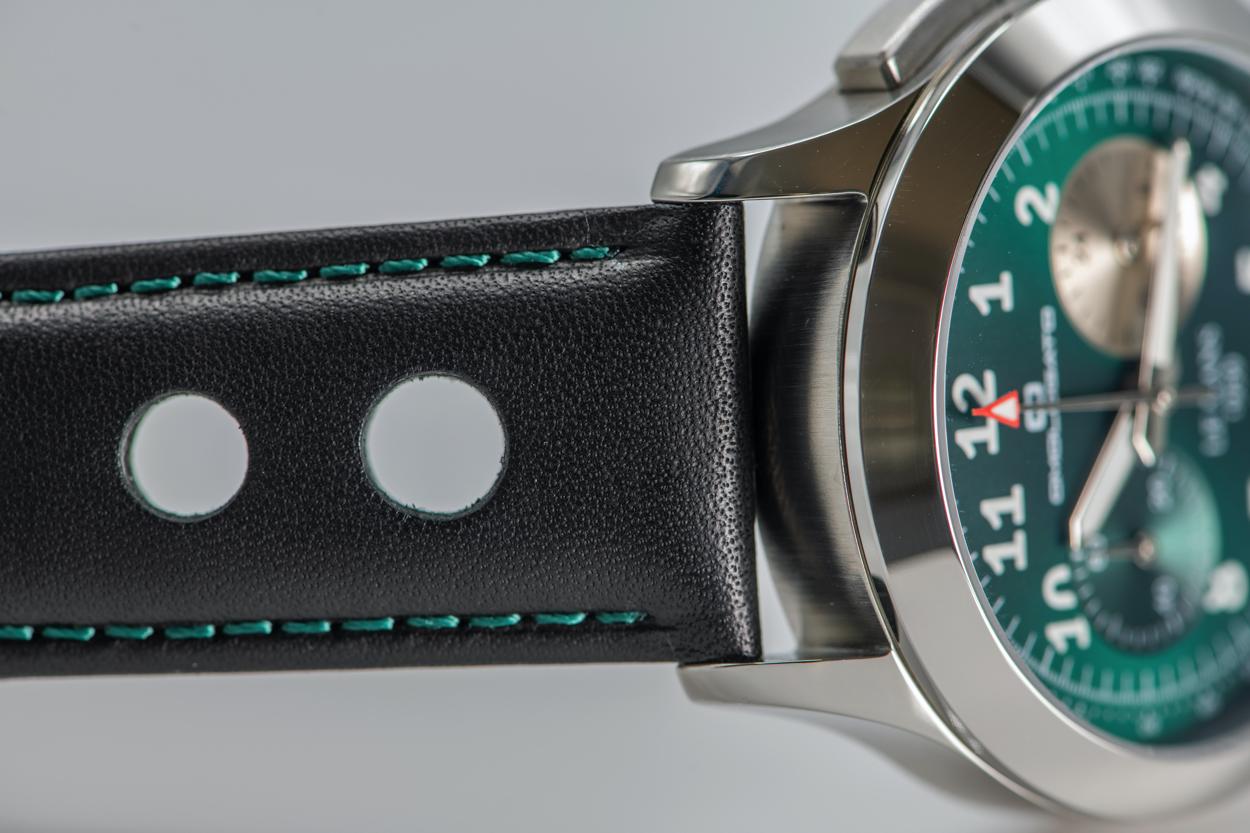 Article by Michael Taylor
Aston Martin has always competed and scrapped and wrestled in motorsport until it had nothing left to give, even when it was hopelessly outgunned in manpower, money and talent.
But then, one day in the summer of 1959, Aston Martin became the most famous sports-car maker in the world.
At Le Mans, in the summer afternoon of June 21, American Carroll Shelby finished the 323rd lap of La Sarthe in his Aston Martin DBR1/300, and he and Roy Salvadori had won the greatest race of them all.
What's more, they'd done it in a formation 1-2 finish, with the second works Aston of France's Maurice Trintignant and Paul Frere just one lap behind.
They had driven a steady, measured race, and became the rock the blisteringly fast works Ferraris and Porsches broke themselves on. 
They saw them all come and they saw them all fall.
The third placed car wasn't even from a works team at all, but was a Ferrari GT car from a Belgian privateer squad, 26 laps behind them.
Aston Martin had been here before, first entering Le Mans in 1928 and running in every race since 1931. It even finished second three times, including in 1958, but it had never won.
For 1959 Aston brought drivers who would go on to accumulate 18 Grand Prix wins and one who would engineer his own famous victories at La Sarthe.
But the opposition was fierce. With a raft of rule changes to allow GT cars, 97 cars were entered and 60 accepted. There were seven works teams and half the field was made up of factory cars.
There was, of course, Scuderia Ferrari, which owned Le Mans and promised to do so again. It had stripped 77kg out of its 250 Testa Rossa and given the V12 a new five-speed gearbox and disc brakes. 
Its driving lineup was always formidable. Reigning Le Mans champions Phil Hill and Olivier Gendebien headed the list, followed by Grand Prix drivers Jean Behra and Dan Gurney, and another car for Hermano da Silva Ramos and Cliff Allison. As backup, there was the Equipe Nationale Belge (Belgium) and the North American Racing Team (NART) in 1958-model Testa Rossas. 
Besides Ferrari, Aston Martin and Porsche, there was Lotus, DB, Osca and Triumph, plus Lister, Cooper and Stanguellini, the sports car brand of Modena's Fiat dealer.
Aston's uphill climb began in April practice, where Gurney's Ferrari ran a 4:03.3 and his teammates Cilff Allison (4:03.6) and Phil Hill (4:04.7) locked out the top three. The Astons weren't even the next quickest car, because Masten Gregory snuck his D-Type Jaguar into fourth. 
The fastest Aston Martin, driven by Sir Stirling Moss, was seven seconds off the lead Ferraris. David Brown's Aston squad wasn't even the best of the rest in practice, much less a match for Ferrari. None of that mattered to Moss when the flag dropped. 
The pole-sitting Ferrari was stalled – twice – by Behra and Moss made him pay, streaking away from the field 10 seconds a lap quicker than his practice time, trying to break the Italian V12s.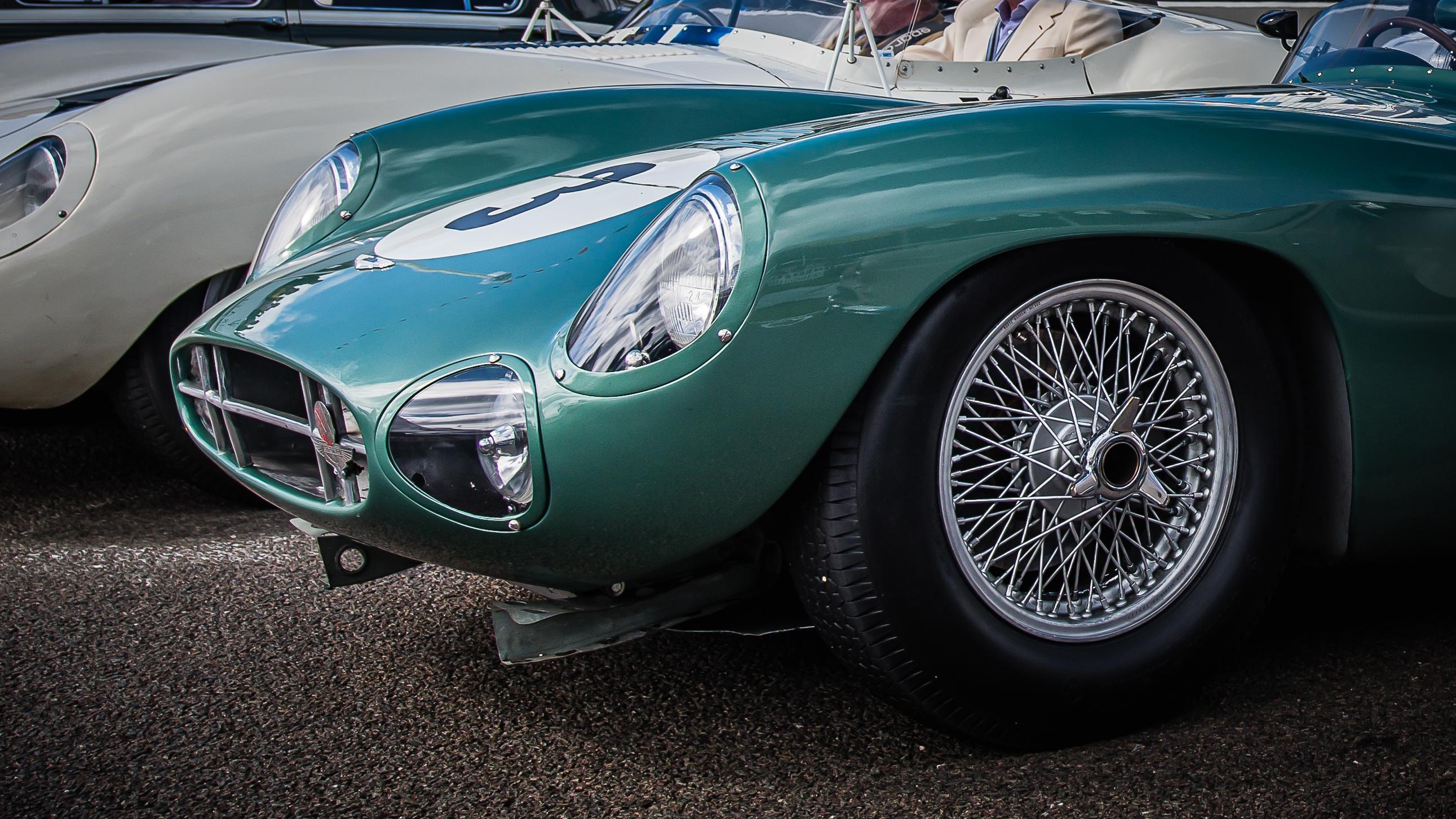 Behra was having none of it. Furious at his errors and with team management for imposing a 7500rpm rev limit, he belted his Italian masterpiece at up to 9500rpm to drag the Testa Rossa from 15th to third in the first hour. He screamed past Moss 15 minutes later, setting the fastest lap on the way, in his last race for Ferrari.
Behra's Testa Rossa predictably began to wilt under the strain. It took a big drink of water at the driver change on lap 30, and began a cycle of overheating that dogged the rest of its race.
The Ferraris of Hill and Allison were chasing Moss and Behra, with the rest of the Aston Martin squad cruising along in eighth and ninth, behind even Graham Hill's 2.0-litre Lotus 15.
The Behra/Gurney Testa Rossa lead Moss and Fairman by 40 seconds at the three-hour mark, and the pair of hares had put at least a lap on every other car in the field.
Ferrari lost its third works car, with the Allison/Ramos Testa Rossa blowing its head gasket in the early evening, then engine problems pushed the Hill/Gendebien Ferrari down to eighth.
But the pace and the heat were crushing the field. Moss's Aston succumbed to engine issues on the 70th lap. Innes Ireland and Masten Gregory's D-Type fell out of second on the same lap with a broken connecting rod.
Behra pitted with faulty headlights not long after and, in a blinked eye, Salvadori and Shelby found themselves leading the Le Mans 24 Hour race, having barely stretched their in-line six, with teammates Trintignant and Frere trailing second-placed Behra.
Half the field had gone by midnight, with 16 hours left to race, but a recovering Phil Hill wasn't one of them. 
He was hunting down the Astons when Behra's tortured V12 finally kaboomed around 2am. When Salvadori pitted with a vibration issue (which, thankfully, was just a piece of tyre stuck in the wheel well), Hill's Ferrari took the lead.
Hill and Gendebien eked out a two-lap lead in the next two hours, but they were now isolated. Not only were their teammates gone, but every private Testa Rossa had retired, too.
Only 23 cars saw the dawn, with the works Ferrari leading the two Astons and easing away with every lap. No other only open-class S-3000 cars remained.
With the race comfortably in hand with four hours to run, Gendebien's three-lap lead evaporated with his Testa Rossa's coolant, and Ferrari's Le Mans assault was over. Aston Martin had outlasted them all. 
They two Astons held their positions and cruised to the flag, with Carroll Shelby easing across the line 26 laps ahead of the third-placed Ferrari 250 GT and just 10 other finishers.
Sick with dysentery, Shelby also had a heart problem that he hadn't told Aston Martin about, and drove his 10-hour share of the race with a nitroglycerine capsule under his tongue.
Salvadori took the lion's share of the driving for the winning car, despite having the flu and, over in the second-placed Aston, Trintignant burned his right foot on the overheating accelerator pedal.
After Aston Martin took out the Tourist Trophy later in the season to win the World Constructors Championship, Brown withdrew the team from all motorsport (including Formula One), and the era of the beautiful green racing cars was over. 
Also over was the flying Jean Behra's career with Ferrari. With one too many arguments, the Frenchman left the Scuderia after the race. 
Two weeks later, after a crash in a sports car race in Germany, he was dead.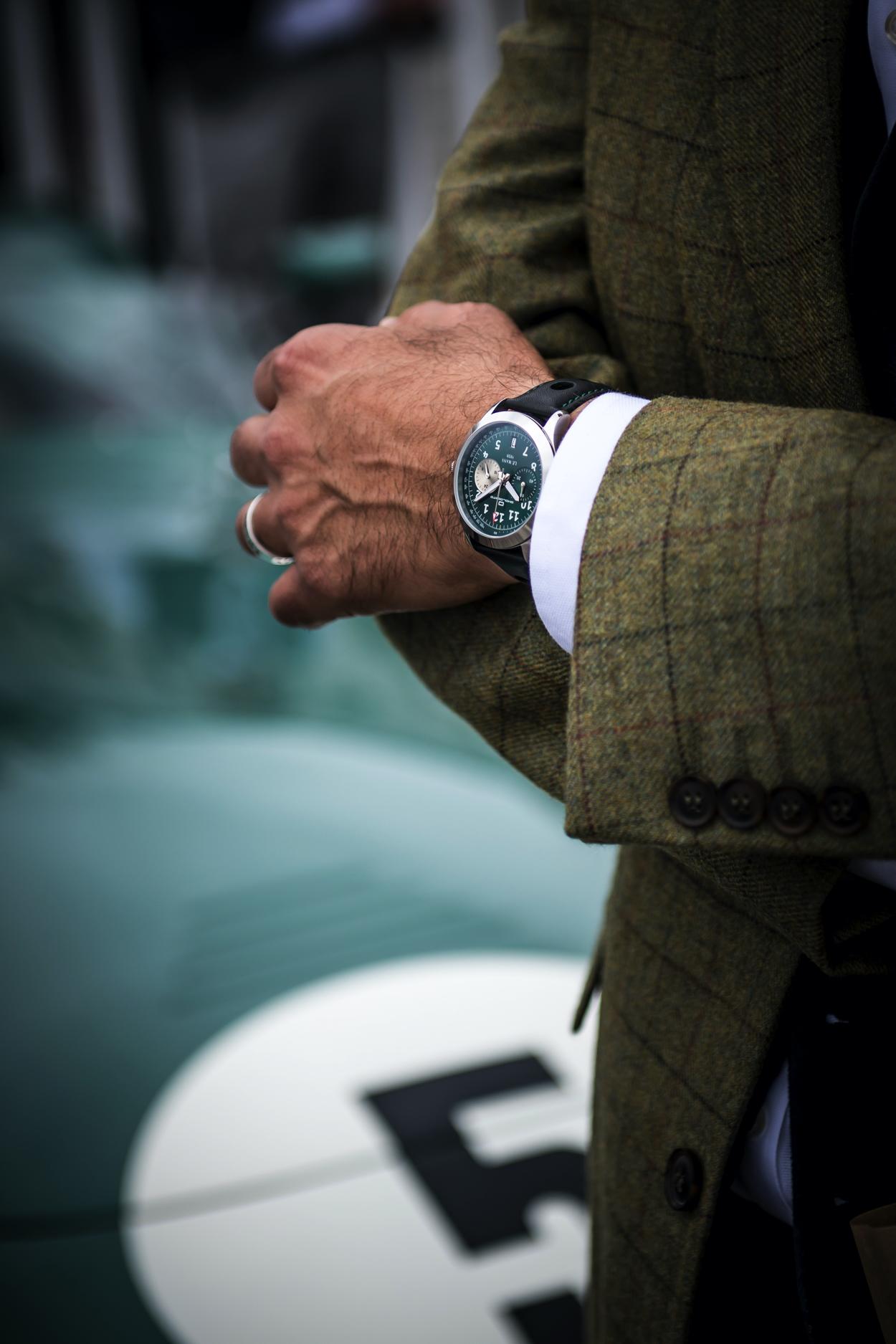 ________________________________________________________________
Our tribute to one of the World's most famous racing brands.
TECH SPEC 
Case : Stainless Steel 316L 41MM diameter - 10mm depth
Glass : Flat sapphire lens with anti-reflective coating 
Details : Sunray Green dial with yellow marker at 59 and white subdial 
Strap : Italian leather rally strap with contrast green stitching 
ATM : 5 ATM water resistant
Movements : Seiko VK64 Meca-Quartz Chrono Date Movements