In Stock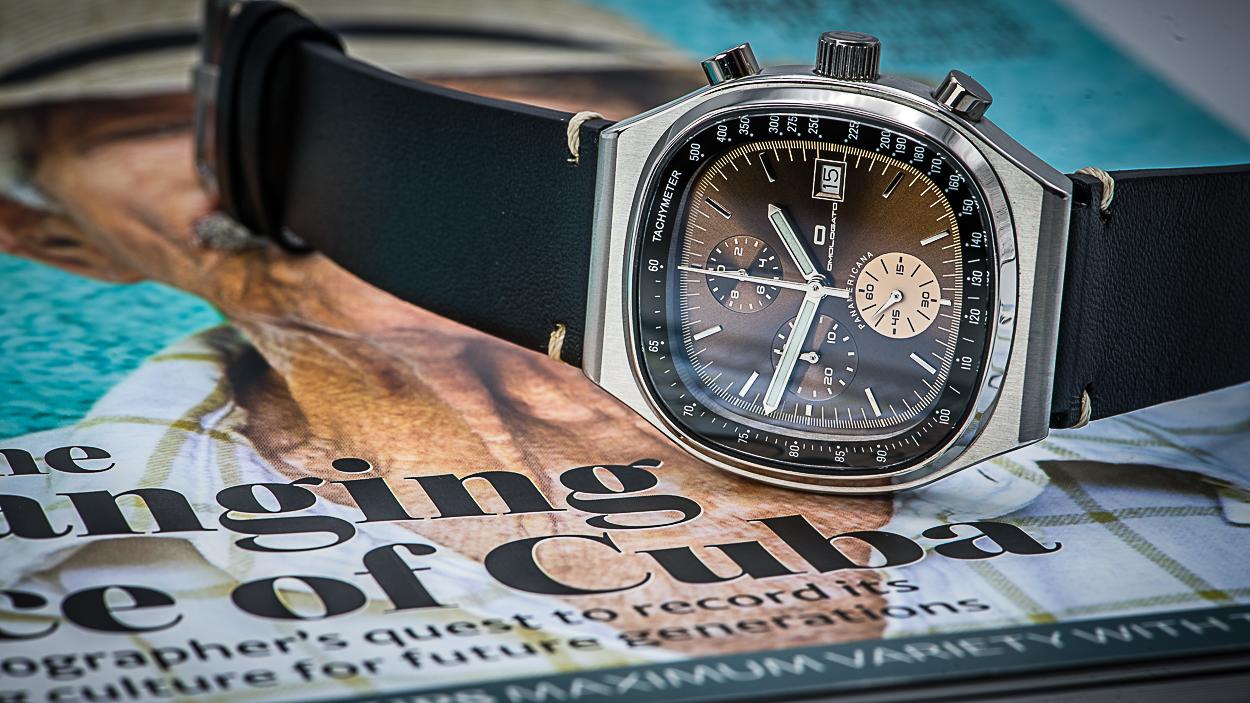 The Cuban Grand Prix must go down as the most colourful race in the history of officially sanctioned motorsport.
Words by Michael Taylor 
The Cuban Grand Prix must go down as the most colourful race in the history of officially sanctioned motorsport.
Conceived in 1957 to attract American tourists so they could be fleeced at the island's (mostly) mafia-run casinos, the Cuban Grand Prix had it all. 
It had names like Juan Manuel Fangio, Stirling Moss, Carroll Shelby and Pedro Rodriguez.
It had Ferrari, Maserati and Porsche running at the front with some of the most beautiful racing cars ever built.
It had a crash that killed multiple spectators and the kidnapping of the reigning Formula One World champion. Oh, and there was a revolution. And it had all of this in just four years – and even then, there were only three races.
Sometimes called the Havana Grand Prix, the sports car race began in the Cuban capital in 1957, and Fangio's Maserati 300S outpaced Shelby's Ferrari 410 S and Alfonso de Portago's Ferrari 860 Monza in front of a bumper crowd.
All good so far, right? It was all about to change.
Maserati sent a full works team of 300S racers in 1958, and sent Formula One's dominant duo of Fangio and Moss to drive them. 
Maserati didn't reckon with the early stages of the Cuban Revolution. Trouble made global headlines when Fangio was kidnapped and marched out of the Hotel Lincoln at the point of a gun, to embarrass the Government. The race went ahead under Government orders, and Moss salvaged the win for Maserati, with America's Masten Gregory in second in a race that only clocked six of its 50 scheduled laps. It was shortened because the 1958 Cuban Grand Prix was another dark day for 1950s motorsport, with Armando Garcia Cifuentes skidding off the road on oil and into a crowd of spectators, killing seven people and injuring at least 40 more.
Fangio was released unharmed after 20 hours. He was held in an apartment block near the circuit, and was treated to a steak dinner and given a radio by the revolutionaries so he could hear the race commentary. He was even presented with a watch by Fidel Castro himself – a watch that is now regularly seen at racetracks on the arm of Scuderia Cameron Glickenhaus founder and noted car collector James Glickenhaus.
With the Fidel Castro's Cuban Revolution in full swing, there was no Cuban Grand Prix in 1959, but he insisted on its return in 1960. 
The race was shifted to a closed military base dubbed Camp Freedom and run around the apron and support roads. Though no factory teams entered, Moss returned (which would be massively controversial today) and won in a spectacular private Maserati Tipo 51 Birdcage, chased home by Mexico's Rodriguez in a NART-entered Ferrari 250 TR59 and Masten Gregory in Porsche 718.
And that was that. The US dropped an embargo on Cuba and everybody stopped coming.
Fangio retired in 1958 – the same year he was kidnapped – suggesting Grand Prix cars were becoming too fast for safety.
Moss continued his search for that elusive F1 title, but had his career ended by a monumental crash of his own, at Goodwood, in a Lotus in 1962. He returned sporadically, and even found time to share a Holden Torana L34 with Sir Jack Brabham at Bathurst in 1976. He died in 2020, at the age of 90.
De Portago, who had flown a plane under London's Tower Bridge for a bet at the age of 17, raced in the Grand National and even finished fourth in the four-man bobsled at the Winter Olympics, died violently, too.
The 1957 Cuban Grand Prix was one of his last races, and the Ferrari works driver died when a tyre failed in the 1957 Mille Miglia, killing him, his co-driver, seven spectators and Italy's most spectacular road race.
Carroll Shelby won Le Mans with Aston Martin in 1959, founded Shelby American in 1962 and won the International Championship for GT manufacturers against the might of Ferrari and Maserati. He famously lead Ford to Le Mans glory with the GT40 and died in 2012 at the age of 89 – a remarkable age for a man who had a leaking heart valve all his life.
Masten Gregory finished third in the 1957 Monaco Grand Prix to become the first American to score an F1 podium and he went on to claim two more, including second in the 1959 Portuguese GP. He was also one of just 19 drivers to compete in the Triple Crown of Le Mans, the Monaco Grand Prix and the Indianapolis 500.
The death of his old friend Jo Bonnier at Le Mans in 1972 pushed him into retirement, and he became a diamond merchant in Amsterdam before dying in his sleep of a heart attack in Italy, at the age of just 53.
Pedro Rodriguez went on to win two Formula One grands Prix and he always carried a recording of the Mexican national anthem, because he was embarrassed after winning the 1967 South African Grand Prix where the band didn't have a copy, so they played the Mexican hat dance instead. (Something similar happened to Australia's Alan Jones after his first win, when was forced to listen to Happy Birthday)
Rodriguez won Le Mans in 1968, but died in private Ferrari 512M during a meaningless sports car race in 1971 at the Norisring in Germany.
Fidel Castro had the longest career of any of them, leading Cuba from 1959 until, despite dozens of US assassination attempts, he handed it to his brother in 2011.
He died in 2011, at the age of 90 in 2016.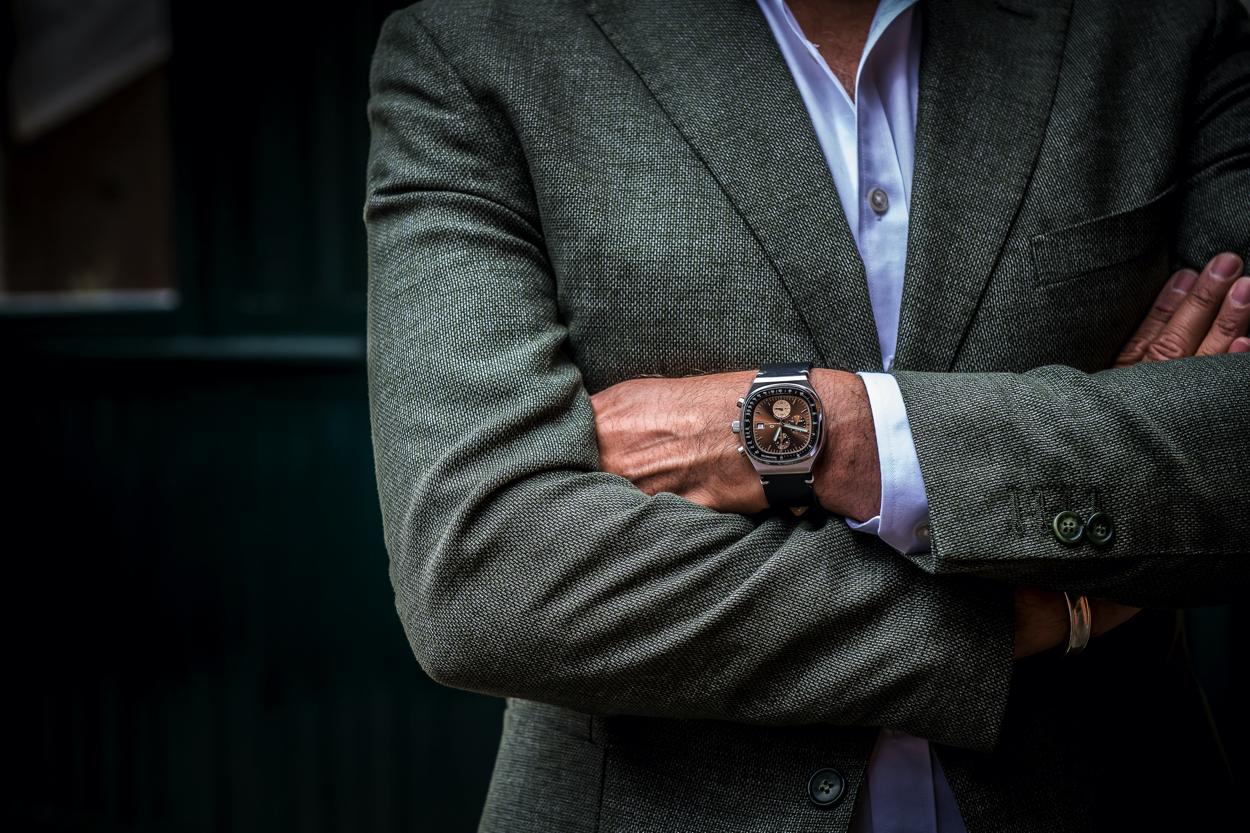 We're proud to offer you The Havana. A chronograph to celebrate this time in Motorsport history.
TECH SPEC :
Case : Stainless Steel 316L 41MM diameter - 10mm depth
Dial : Tobacco with a sunray finish
Strap : Italian heavy grain woven leather 20mm. Length 20mm
Glass : Flat sapphire lens with anti-reflective coating 
Details : Flat black and white tachymeter at the edge of lens
ATM : 5 ATM water resistant
Movements : Swiss Ronda 3540 Chrono Date Meca-Quartz Movements