The history of the California Dial
The History of the California Dial
The essence of the 'California Dial' is extremely simplistic. A watch dial that consists of both half Roman and half Arabic numerals. Generally speaking, numbers 10 to 2 are Roman and 4 to 8 are Arabic, however the classic architype has changed and evolved over the years, varying from brand to brand to what is recognized today as the more youthful and edgy variant in one's collection. But, where did this all begin?
There are an abundance of theories thrown around at action halls and forums as to why this dial was called the 'California Dial'. One theory suggests that Californians just loved the mixed numerals on wristwatches in the 1930's and 1940's and another that California dealers in the 1980's were selling so many watches with this dial variant that the official types inherited the name. The accurate theory as to where this name originally came from comes from James Dowling. Dowling explained that in the 1970's, when the vintage watch boom started, an LA based dial refinisher, Kirk Rich, created some unique dials with this half design. The dials became so popular that many vintage watch stores in California sent their watches to Rich. Through this link, dealers and collectors started to call the watches the 'California' dial.
The two key players within the launch and development of this extraordinary dial type were Rolex and Panerai. In 1934 Rolex started making developmental watches featuring the California Dial in highly recognizable pieces such as the Ref. 3595 bubble back. These watches were effortlessly cool, clocking a 32mm dial, leather strap and rose gold. The California dial edged a sense of character and style into the classic designs, the watch of the modern era.
Two years on from the original inception by Rolex and the Italian Navy requested that Officine Panerai make a very specific dive watch from a collated team of specialist divers. The watch criteria, simple, it needed to be pressure and water resistant which was highly visible at night and when submerged. This was a simple brief, however Panerai did not make watches. They were responsible for producing diving gauges and equipment but did not have the specialism in wristwatches. Paneria therefore sought the assistance from Rolex to create this Navy worthy timepiece. Rolex subsequently produced the Ref. 3646 which adorned a 47mm Rolex Oyster case and held within a Rolex Caliber 618 movement. A percentage of these watches were fitted with the California dial which allowed for great visibility both underwater and at night. It is recognized that the larger numerals allowed for luminous paint to be applied much thicker and therefore more visible at night. In 1942 Rolex was granted the patent for the half Roman and half Arabic watches and has since produced remakes of this very iconic watch.
Nowadays, slight variations of the California dial can be seen on new watches produced by a variety of brands and they look exceptional. The California dial speaks of modern design in an age of revolutionary fashion and creativity and if nothing else puts a smile upon the face of the wearer, or navy diver.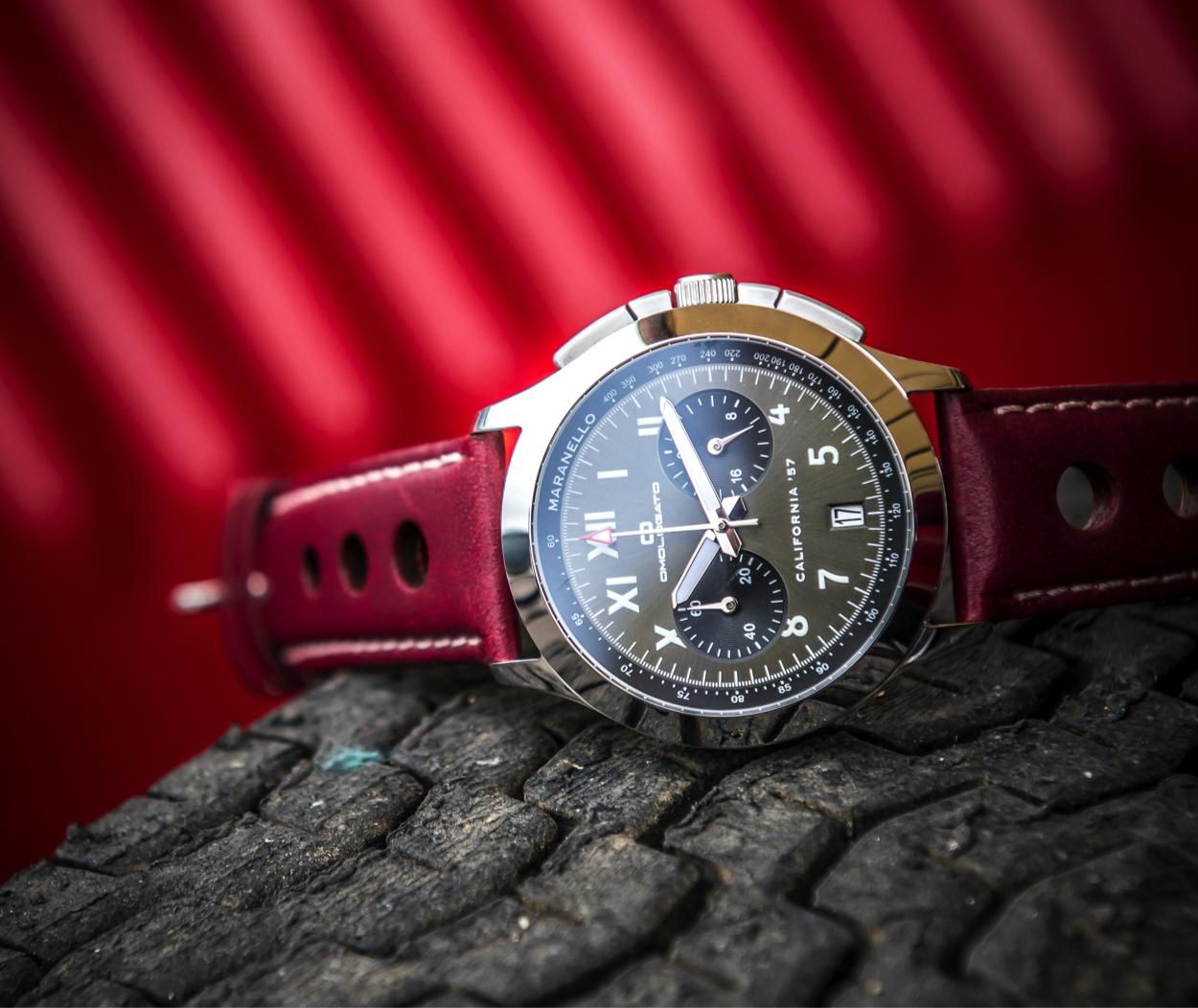 Omologato Maranello Califoria '57 - click HERE for details