Radical Motorsport Announces Omologato as Watch Partner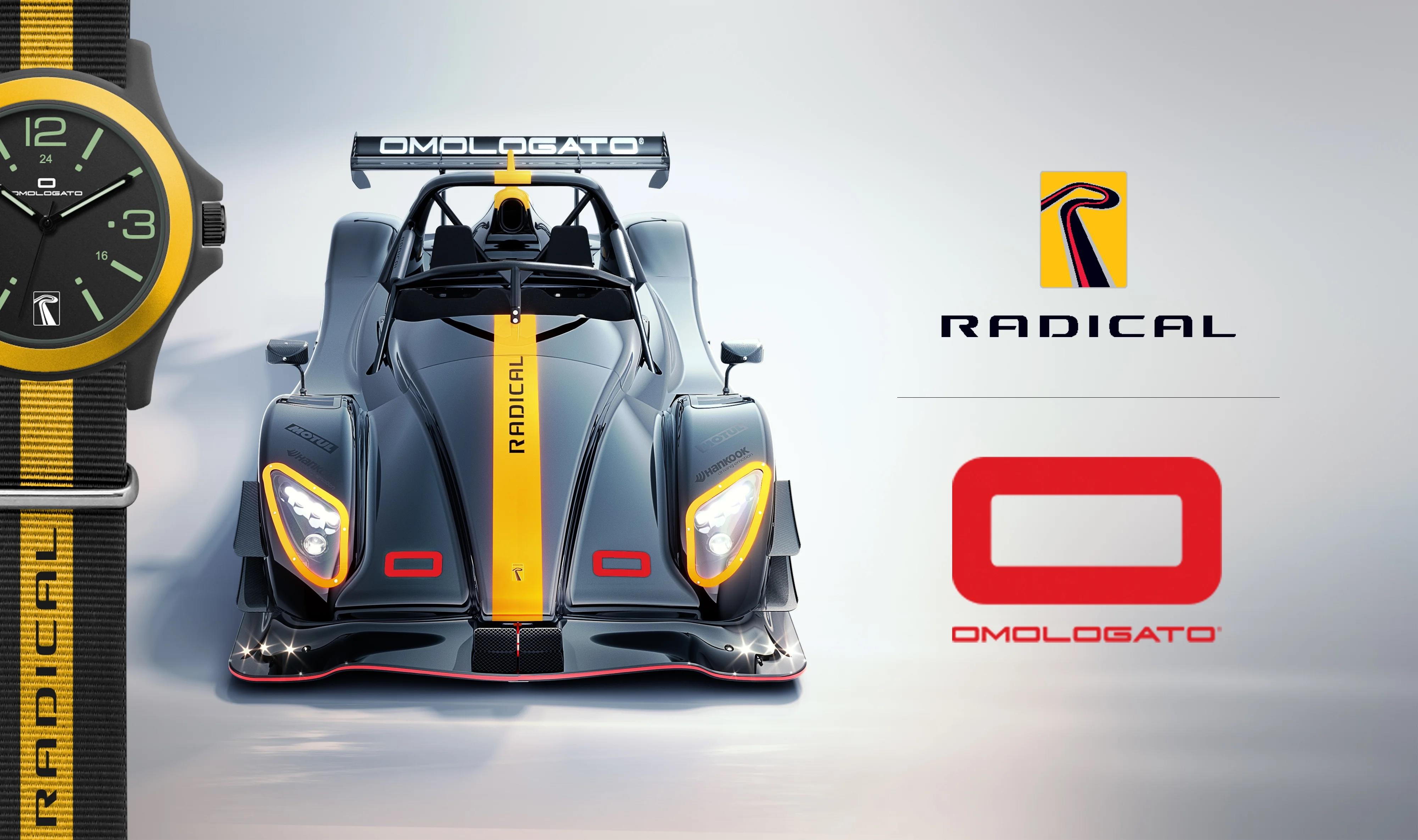 11 January 2023 Cambridgeshire, UK – Radical Motorsport, the UK's largest race car manufacturer, is delighted to announce Omologato as its Official Watch Partner. The collaboration will see a 'Radical Edition' of the popular Omologato Tifosi collection and Omologato sponsorship on Radical's demo fleet in 2023.
The term Tifosi is world-renowned, in thanks to the legions of dedicated followers of a certain red Italian F1 team and its drivers. First introduced by Omologato in 2017, the Tifosi collection is a timepiece designed to be affordable, durable and wearable at racetracks around the world. Much like the Radical ethos; lightweight sports cars that are affordable, durable and with now 12 single-make Radical Cup championships, they are also enjoyed at racetracks around the world.
Founded in 2015, Omologato has quickly established itself as one of the pre-eminent watch brands in the world of racing. Founder Shami Kalra is a lifelong motorsport enthusiast who has developed hand-made timepieces inspired by four and two-wheel models. Taken from the Italian language, Omologato simply means Homologated or 'Ready to Race'. The company's ethos is ingrained with chronographs incorporating design cues that reflect the true spirit of motor racing.
Commenting on the partnership, Jon Roach, Global Head of Marketing at Radical Motorsport, said: "This partnership is the perfect project to showcase our two products. Omologato is a fellow British brand with a clear passion for motorsport and is well respected by racing drivers around the world. We're looking forward to working with them [Omologato] and seeing the 'Radical Edition' watches in paddocks around the world soon."
Shami Kalra, Founder and CEO of Omologato, added: "As a brand that was built to celebrate motorsport, the community of fans and racers, and manufacture stand-out commemorative racing-inspired timepieces, we're overjoyed to become Radical Motorsport's Watch Partner. The relationship is one I hope will grow over time – pardon the pun – with the start being a 'Radical Edition' of our popular Omologato Tifosi and various sponsorship activations, and hopefully grow from there. It's going to be a great year for both of our British-headquartered brands, in 2023."
Priced at £150, the Tifosi Radical Edition is available to pre-order at omologatowatches.com/radical and purchase at selected Radical events. Drivers who register to race in the 2023 season of the Hagerty Radical Cup UK will receive a complementary Omologato 'Radical Edition' watch if their entries are received in January 2023.