Matt Bishop Monthly Edition 4
Have you heard of Geki? No, it is not a gloopy Middle Eastern dip that you might scoop into your mouth by way of a Pringle or a Dorito; neither is it an idyllic seaside village on a Greek island, nor indeed a sumo move. It is not an 'it' at all, in fact, but a 'he'.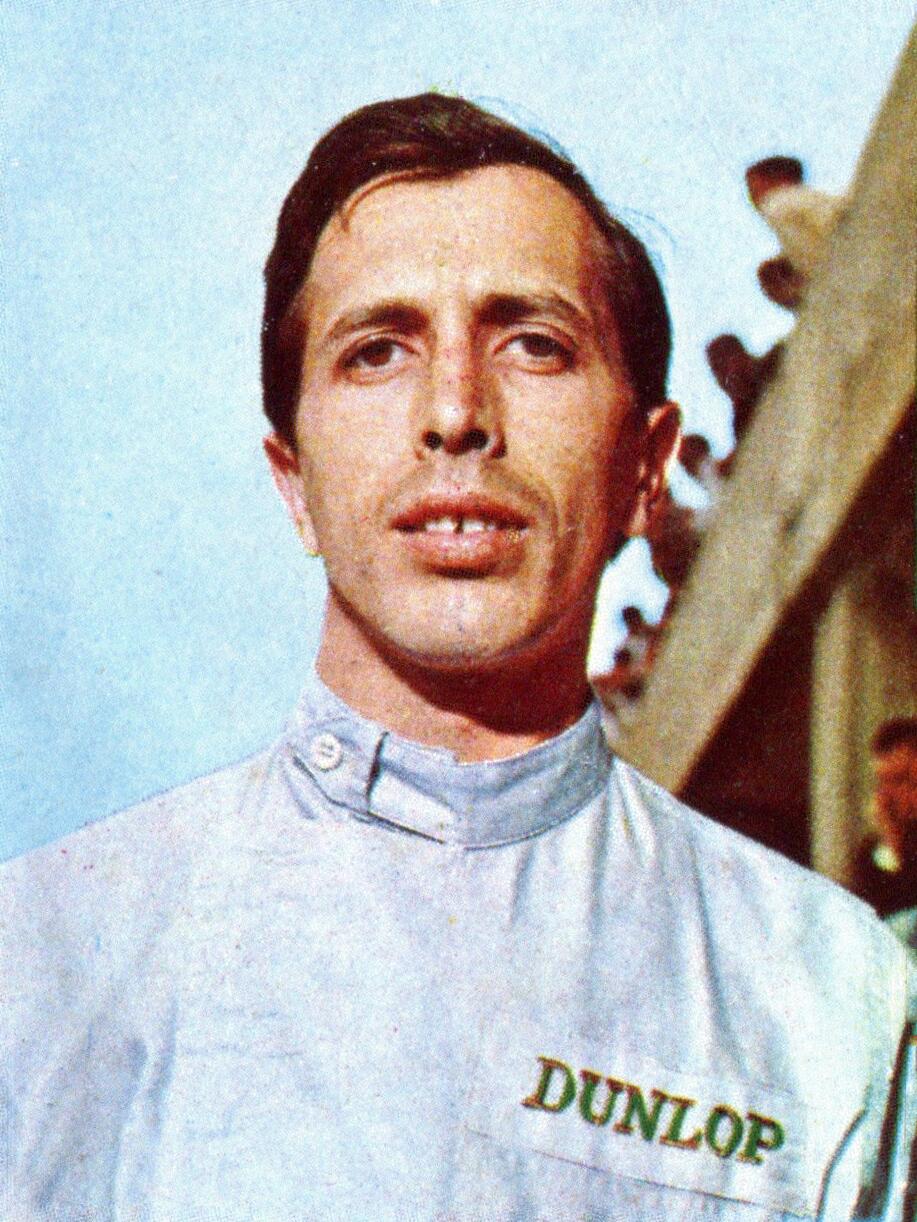 Geki was the nom de course of Giacomo Russo, and the reason I am writing this blog about him is twofold: (1) his story is little known yet very interesting, and (2) he died on 18 June - the day that I am writing it - albeit 56 years ago.
Nom de course? Oh yes. Nowadays racing drivers compete using the names they were born with. So they did many years ago too, but not always, and especially not in Italy. Racing was so dangerous back in the day that Italian drivers in particular sometimes competed using aliases, to spare their parents the agonies of worrying about their sons whizzing about in what they might have justifiably regarded as mobile coffins; or, in some cases, because their parents had expressly forbidden them from risking not only limb but also life in so reckless a way, especially for so little monetary reward.
The latter reason was why Giacomo Russo raced as Geki. Born into a very wealthy Milanese family who lived in a palazzo near Monza and expected him to take over the running of their successful textile business, he had other ideas, for, spotting Juan Manuel Fangio one afternoon in a Milan cafe and daring not only to ask for the great man's autograph but also to engage him in conversation, young Russo immediately set his heart on la corsa.
His first race was a Formula Junior event in 1959, at Monza, in which the 21-year-old rookie finished sixth in a Stanguellini-Fiat. Buoyed by that encouraging debut, he continued to improve race by race until, again at Monza, later that same year, he finished second to Lorenzo Bandini, who was also racing a Stanguellini-Fiat. The following year, 1960, Geki accompanied Bandini to Cuba, where they raced their Stanguellini-Fiats to first and second again, Bandini ahead once more, on a circuit laid out on the Ciudad Libertad airfield near Havana. Then, back home at Monza, Geki won two races in a row, the first by 26 seconds and the next by 17 seconds.
The following year, 1961, Bandini and Geki continued to race Stanguellini-Fiats together. Bandini won once, Henri Grandsire (yes, the French actor, who is still alive today, aged 87) won twice, and Jo Siffert won four times, but Geki was often not far behind. At Monza he was second, just 0.2 seconds behind Bandini, and he continued to rack up top-three finishes. By year's end, having switched mid-season from his Stanguellini-Fiat to a Lotus-Ford, despite not having won a single race, he was Formula Junior champion.
He won the championship again in 1962, and yet again in 1963, winning eight races in those two seasons, often peerless at Monza. He then graduated to Formula Three in 1964, winning the Italian Championship in a De Sanctis-Ford, triumphing in the first three rounds of the series, all of them at Monza. By now Geki was building a reputation as a young racer who knew how to win. Although he was therefore no longer able to keep his racing secret from his parents, he continued to compete under his nom de course. It had served him well so far, after all. Nonetheless, his old amico, Bandini, had outstripped him, for he was now a works Scuderia Ferrari driver in Formula One, having finished third in the 1962 Monaco Grand Prix behind legends Bruce McLaren and Phil Hill, and having won a non-championship Formula One race at Enna-Pergusa, Sicily, two months later. He would go on to win the 1964 Austrian Grand Prix, which was run on a tiny circuit of just four turns on the Zeltweg airfield, possibly the worst ever to stage a championship Formula One Grand Prix.
Unsurprisingly, Geki now reckoned that he too was ready for Formula One. Regarded as a Monza specialist, and rightly so, he sorted himself out with a rented drive for the 1964 Italian Grand Prix in a privateer Brabham BT11 run by Rob Walker, but failed to qualify. The next year, 1965, having won two more Formula Three races at Monza, he entered the Italian Grand Prix again, this time in an ageing works Lotus 25, qualifying a long way off the pole time set by his team-mate Jim Clark in a works Lotus 33. But he raced well, forging his way from the back of the field to a top-10 position before being forced to retire with gearbox failure after 37 laps. In the 1966 Italian Grand Prix he raced a works Lotus 33, albeit one 'powered' only by a 2.0-litre Climax engine in a 3.0-litre formula. He finished ninth.
By 1967 he had given up on his Formula One dream and determined instead to split his time between sports car racing with Alfa Romeo and a Formula Three campaign in a De Sanctis-Ford and, later, a Matra-Ford. He was developing into a fine endurance racer and, jumping back to his Formula Three comfort zone between sports car races, he also shone, winning at Monza, finishing second at Vallelunga and Imola, then third and fourth at Monza and Monza again.
Next up was Caserta, just north of Naples, a very fast, extremely narrow, high-walled and tree-lined street circuit. Soon after the start of the race, on the long Via Domenico Mondo not-quite-straight that hugged the railway line, Beat Fehr, Franco Foresti and Andrea Saltari collided with one another, blocking the track. Fehr jumped out of his car, ran back down the circuit to warn others of the hazard ahead, but it was too late. Geki arrived on the scene, unsighted by the walls and trees, and at maximum speed he and Romano Perdomi (nom de course: Tiger) crashed into the stationary cars ahead. Geki, whose body was catapulted out of his car onto the asphalt, was killed instantly. So was the heroic Fehr, hit by Geki's flying Matra-Ford while he had been standing on the track, still waving to the approaching drivers in an effort to persuade them to stop. Tiger was badly injured and died in a Naples hospital eight days later.
The championship was cancelled. Since he had been heading the points standings at the time of the tragedy, Geki, who had been just 29, was declared champion - posthumously - a laJochen Rindt - who died at just 28 at Monza in 1970 and was declared posthumous Formula One world champion at season's end. The following year, 1968, a Formula Three race at Geki's beloved Monza was named 'Gran Premio Geki'. His young widow attended it, while back at home her mother looked after her and Geki's little girls, a two-year-old and a baby of just six months, who had been in utero at the time of Geki's death. Two young Italian drivers from aristocratic families, both of them racing under noms de course, Gero (De Sanctis-Ford) and Guido (Brabham-Ford), finished the Gran Premio Geki in the top 10. In inceptum finis est (Latin: the beginning foreshadows the end).
Image Copyright of owner