Ferrari - Formula 1 Champions 1961
After two years of licking his wounds, inflicted by British 'garagiste' Cooper Cars and its revolutionary and world-beating rear-engined racers, Enzo Ferrari had had enough. He needed to bounce back for 1961.
And his Maranello mothership had nowhere to hide; it had gone public in 1960, which put the world's most famous car company – and, as a by-product, racing team – in an even brighter spotlight. Something had to be done. And fast.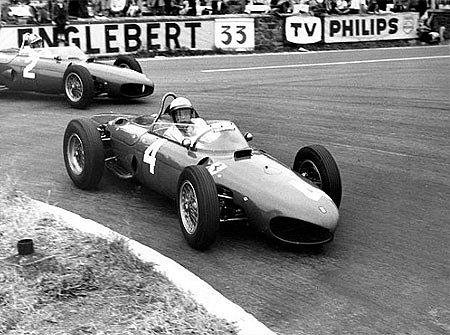 The 1959 and '60 Formula 1 World Championship seasons had been all about dynamic father-and-son duo Charles and John Cooper and their eponymous single-seaters, whose 2.5-litre Coventry Climax motivation came from behind the driver. And gritty racer/engineer Jack Brabham proved the best of them in this revolutionary phase of F1, the Australian taking back-to-back drivers' world titles and helping the Surrey-based squad to a Constructors' Championship double.
What Ferrari needed to do, having won only three races during Cooper's two-year rout – two in 1959 and one, on home soil at Monza, in '60 – was to revolutionise this revolution.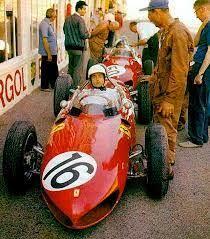 Before the fanfare, led by the Tifosi at Monza following American Phil Hill's victory in the Italian Grand Prix aboard the 2.4-litre V6-powered Dino 246, had fully died down, work had begun on a new machine. And the answer to Enzo's prayers came in the shape of one of Grand Prix racing's most unique, exquisite, successful and shortlived challengers: the 156.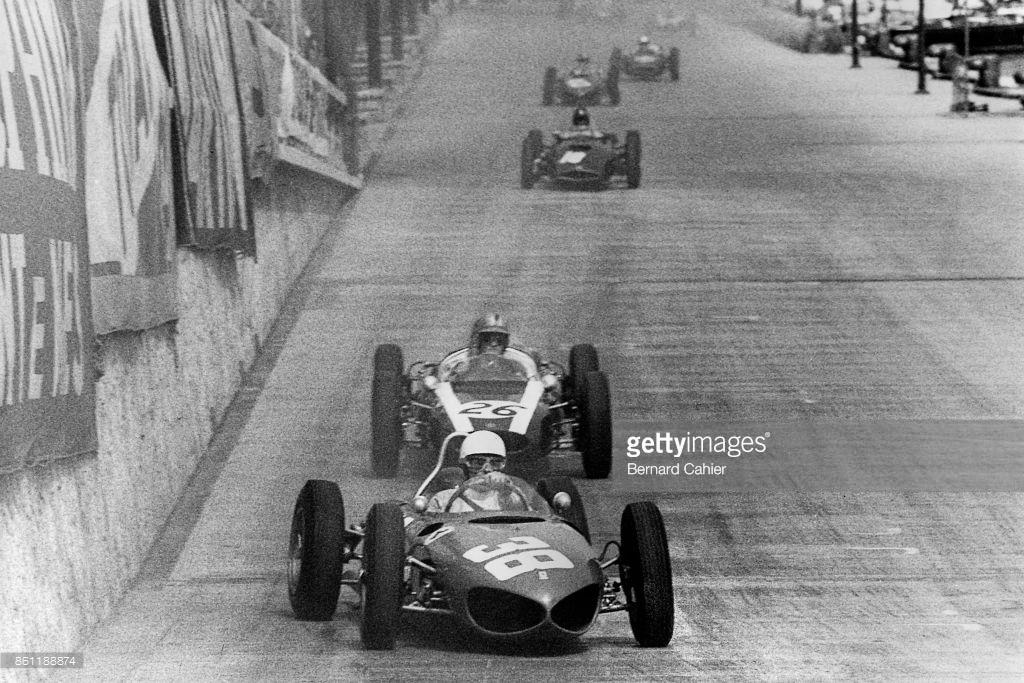 Penned by Carlo Chitti and dubbed 'Sharknose' on account of its pointed nose and distinctive nostrils, the 156 was conceived to maximise competitiveness in 1961, the first season of the mandatory 40 per cent reduction in engine capacity from 2.5 to 1.5-litres.
Having toiled night and day to avenge its opponents from Cooper and to fend off the burgeoning threat from Lotus and BRM, there were no excuses for Ferrari this time. Its unchanged driver line-up, comprising Hill, Wolfgang von Trips and Richie Ginther, was expected to deliver the goods.
The season began in Monaco on May 14th, which ironically had given Ferrari plenty of time to get its sportscar racing house in order. Endurance events had always been a key part of the Prancing Horse's raison d'être and Hill and Belgian Olivier Gendebien had taken a third win in four years in the gruelling Sebring 12 Hours aboard the 250 Testa Rossa in March, with Gendenbien partnering Von Trips to victory in the equally arduous Sicilian Targa Florio road race a month later.
And all this before the trio of 156s, powered by sonorous 1.5-litre V6 engines, had arrived in Monte Carlo. The threat from Lotus proved very real when Stirling Moss, in Rob Walker's four-cylinder 18, eclipsed the fastest Ferrari – Ginther's – and the best of the works Lotus 21s, that of Jim Clark, for pole position.
Ginther used the Ferrari's grunt to lead Moss for 13 laps before the Englishman found a way past and managed the gap to the American to win by 3.6sec. Hill and von trips followed them home to make it a Maranello 2-3-4. First blood to Lotus, then, but at least World Champion Cooper had been nowhere.
Next time out, around the Dutch seaside swoops of Zandvoort just a week later, Hill led a Ferrari 1-2-3 in qualifying, while Moss could only manage fourth. German nobleman Von Trips got the jump on Hill at the start and led all 75 laps to claim a maiden career win – and with it joint share of the championship lead with Moss.
Next came the magnificent rollercoaster ride that was the Spa-Francorchamps circuit in Belgium's Ardennes forest for the Belgian GP on June 18th, just a week after Hill and Gendebien had secured Ferrari's third Le Mans 24 Hours victory in the past four years. Confidence was running high at Spa and Hill made it back-to-back poles, ahead of Von Trips and local boy Gendebien, making his first start with the Scuderia since 1959.
A Ferrari rout ensued after 30 laps, with Hill, von Trips, Ginther – up from fifth on the grid – and Gendebien securing an historic 'Sharknose' 1-2-3-4. As a result of his first win since Monza '60, Hill jumped von Trips and Moss to lead the points standings as F1 1961 headed for Reims and the French GP on July 2nd.
There was a familiar Ferrari 1-2-3 in qualifying around the superfast triangle of Reims, with Moss and Clark best of the rest for Lotus, but precious few had taken notice of Italian newboy Giancarlo Baghetti.
Making his very first World Championship Grand Prix start, in a fourth 156 run in the colours of the Federazione Italiana Scuderie Automobilische, the 27-year-old qualified an unspectacular 12th. But, come race day, he fought his way to the front, taking advantage of engine failure for von Trips and a lap-losing spin for erstwhile leader Hill, to duke it out for the lead in a classic slipstreamer with Porsche's Dan Gurney. Baghetti held on for a famous win by just 0.1sec.
With Hill clinging on to his points lead over von Trips and Ferrari with almost double the Constructors' points over Lotus, the Maranello steamroller then headed to Aintree for the British Grand Prix on July 15th.
Hill took a fourth straight pole, ahead of von Trips as their championship battle intensified. As had happened in Holland, von Trips won the day – and retook the title-race lead – having passed leader Hill after seven laps in heavy rain at the Liverpool venue.
Thanks to the absolute mastery of Stirling Moss, Ferrari was beaten around the 14-mile Nürburgring Nordschleife, home to the German GP on August 6th. The Briton's Rob Walker-run Lotus was only third on the grid as Hill made it a fifth straight pole, but Moss took the lead on the opening tour and stayed out front for 15 laps to win by more than 20 seconds from von Trips and Hill.
With two races to go, von Trips headed to Ferrari's backyard at Monza with a four-point advantage. And what happened that weekend outdid any Hollywood tearjerker from the pen of the most imaginative scriptwriter.
Von Trips secured pole in front of the fervent Tifosi, eclipsing Mexican Ferrari newboy Ricardo Rodriguez, Ginther and Hill. Only Graham Hill's BRM pipping the fifth 156, the Scuderia Sant Ambroeus car of Baghetti, prevented a Ferrari 1-2-3-4-5 qualifying cleansweep.
One of Ferrari's most bittersweet Grands Prix in its long history unfolded on Sunday September 10th. While disputing fourth place von Trips tangled with Jim Clark's Lotus on the run to the Parabolica at the end of the second lap – with tragic consequences. The #4 Ferrari was launched into the crowd where it killed 14 spectators before landing back on the track, its charismatic driver thrown out and killed within sight of a maiden world title.
A stunned Phil Hill won the race and with it the 1961 Drivers' World Championship, the first American to do so. Celebrations were muted as a team, which had lifted its first Constructors' crown, and a nation mourned its fallen ace.
The season finale, the United States Grand Prix at Watkins Glen on October 8th, would've been a fitting way for Hill to end his Championship year, but Ferrari refused to send any cars having already wrapped up both titles. It was a move that privately incensed Hill, who had been a fast, consistent and, therefore, deserving Champion. He could hardly be blamed for wanting to celebrate in his home GP, despite what had befallen his friend and team-mate.
But Enzo and his glorious red cars had bounced back and that was all that mattered within the hallowed halls of Maranello.
CLICK HERE TO SEE THE MARANELLO® CHRONOGRAPH