British F4 and Omologato
BRITISH F4 CHAMPIONSHIP CERTIFIED BY FIA LAUNCHES 2022 CAR
AND KEY PARTNERSHIPS AT BICESTER HERITAGE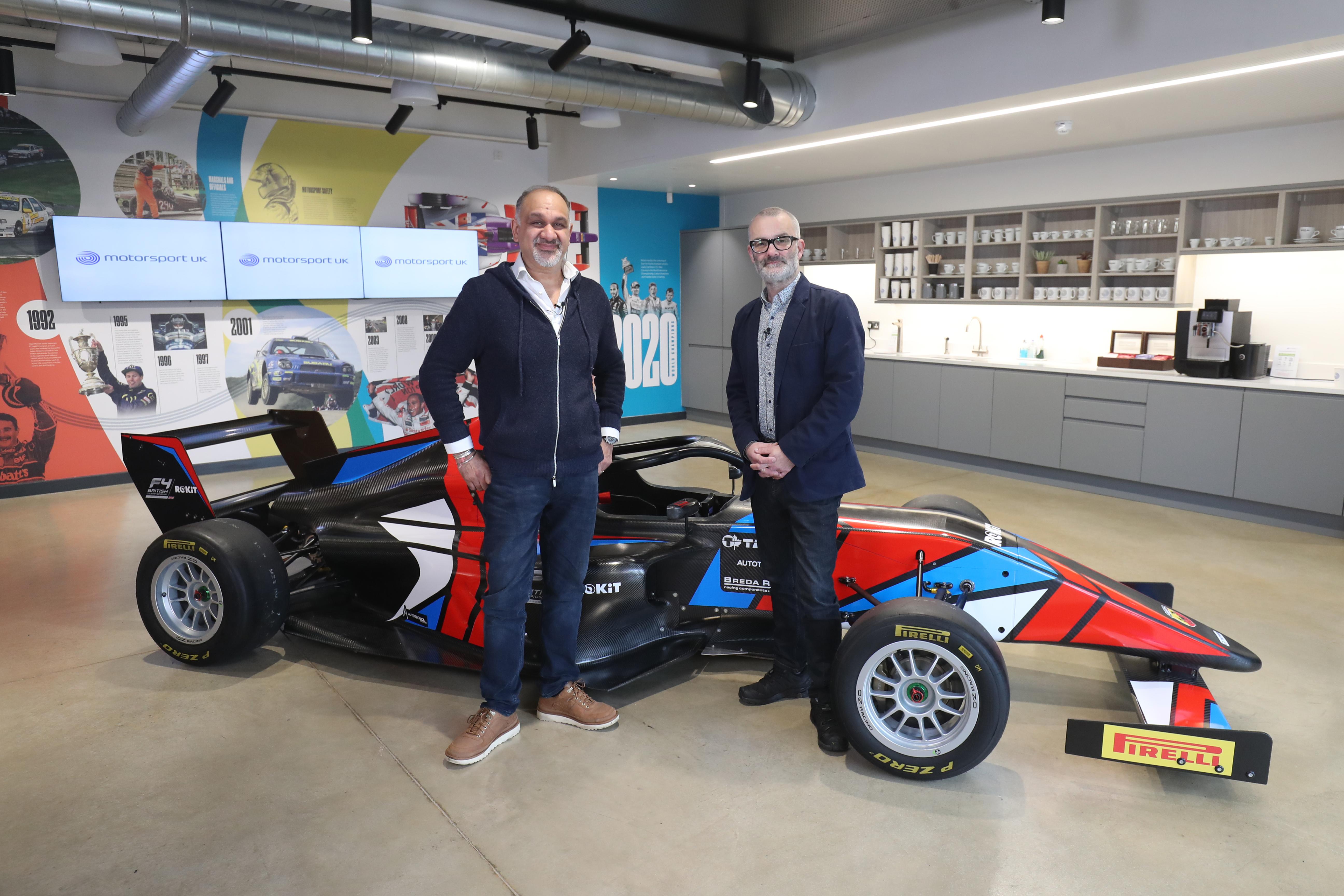 Britain's FIA Formula 4 series takes preparations for 2022 up another gear at Bicester Heritage.
Second-generation Tatuus F4 car unveiled alongside new title partners ROKiT; McLaren and Pirelli announce prizes to enrich competitor experience.
ROKiT launch new Racing Star talent detection programme, with two winners set to receive fully-funded 2023 drives in British F4.
26 November 2021 – The ROKiT F4 British Championship certified by FIA has entered a new era as the second-generation car was unveiled today alongside the announcement of ROKiT as title partner of Britain's FIA Formula 4 series at Bicester Heritage, UK.

2022 marks a dramatic shift in the dynamic of Britain's FIA Formula 4 category, an internationally renowned entry-level category for the stars of tomorrow, including the adoption of the hugely successful Tatuus-Abarth chassis and engine combination.

That, combined with the introduction of Pirelli as the category's tyre supplier, brings the championship in line with its contemporaries around Europe, as well as the rest of the FIA Single-Seater Pathway.

An audience comprising team personnel, invited media, commercial partners, prospective entrants, and representatives from all levels of the sport – including Formula 1 – were also witness to the unveiling of the category's new title sponsor, ROKiT in one of the striking hangars on the former RAF site, juxtaposing past, present, and future in a unique setting.

Already a renowned force in motorsport, the innovative brand's decision to partner with British F4 is perfectly positioned with its philosophy of producing global-leading products in a number of different sectors, and their influence on the series will also help break down barriers for future competitors through the ROKiT Racing Star scheme.

Fronted by Robert Fernley, Head of the FIA Single-Seater Commission, with the talent detection programme set to pluck two rising stars aged 14 or 15 years old from obscurity in 2022, with the ultimate prize of two fully-funded seats in the championship for the 2023 season on offer.


Second-generation FIA Formula 4 car takes centre stage at former RAF base

The event kicked off with a short discussion between presenter Ariana Bravo and Hugh Chambers, CEO of Motorsport UK, focusing on the series' outstanding heritage under its previous guise with Ford and RacingLine, including the development of a platform that powered the careers of several of the sport's pre-eminent stars, from Senna to Schumacher, Hill to Herbert and, more recently, the likes of Jenson Button and Lando Norris.

The focus then shifted to the future, with Motorsport UK Board member and Sky Sports F1 pundit Karun Chandhok on hand to assist Chambers with unveiling the Tatuus T-421 to the assembled crowd.

The car itself features a number of notable safety advancements, including the Halo cockpit protection device and strengthened side anti-intrusion panels. Motorsport UK has also sought to go above and beyond the mandatory changes with further safety features such as on-board signalling systems, with the aim of developing the safest FIA Formula 4 car worldwide.

The guiding philosophy behind establishing the series' commercial partners for the future has been their ability to enrich the experience for drivers beyond their financial support, further cementing the category's status and the UK's heritage as the international destination for driver development.

Pirelli, already confirmed in October as the control tyre supplier to the series for the next three years, launched their Hardest Charger Award in line with this, ensuring the driver who completes the most overtakes at each event will receive a free set of tyres to be utilised in testing, boosting their prospects for meaningful track time in the car.

Pirelli's presence at each subsequent step on the FIA Single-Seater Pathway, from Formula Regional through to FIA Formula 3, FIA Formula 2 and Formula 1 will also support Motorsport UK's philosophy of building a championship that allows meaningful progress for drivers into the higher categories.

Along with 12 valuable FIA Super License points to aid their progression through the pathway to professional motorsport, the 2022 Champion will receive a funded test in a Formula Regional European Championship by Alpine challenger courtesy of Italian marque Pirelli to give them crucial experience ahead of taking the next steps on their journey.

They will also receive a once-in-a-lifetime opportunity to go behind the scenes at a Formula 1 Grand Prix with McLaren, giving them an in-depth insight into life at the sport's top table and highlighting British F4 as a high-profile proving ground for stars of the future to impress.

Watch the F4 video we shot here