Arrow McLaren SP livery launch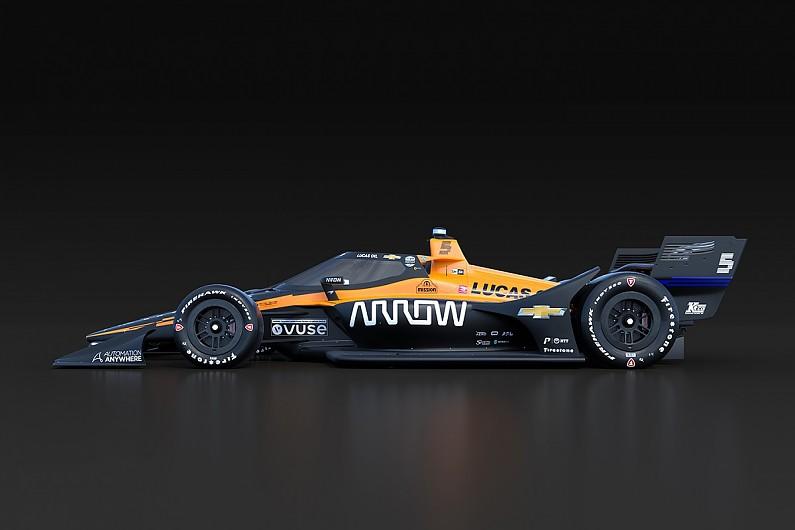 Arrow McLaren SP has revealed the livery in which its cars will run in on its return to IndyCar.
The design features prominent use of McLaren's traditional papaya orange, which is complimented by black paint on the nose, wings and sidepods.
McLaren withdrew from US open-wheel racing at the end of 1979 when the Ron Dennis/John Barnard Project Four company merged with McLaren in the UK and elected to focus on Formula 1.
Before that, McLarens were used by Mark Donohue in 1972 and Johnny Rutherford in 1974 and 1976 to win the Indianapolis 500, while the 1973 and 1977 Indycar titles were also won by McLaren drivers.
By the time the brand withdrew, it had amassed 28 race victories, 18 of which were earned by the works team.
McLaren has increased its presence in IndyCar in recent years, backing Andretti Autosport-Honda's one-off Indianapolis 500 entry for Fernando Alonso, and then fielding its own entry with Alonso last year - though that partnership failed to qualify for the race.
The team has since joined forces with Arrow Schmidt Peterson Motorsports for 2020 to participate in the series full-time, and will field 2018 Indy Lights champion Patricio O'Ward and his successor Oliver Askew this season.
"Today is a moment to reflect on the journey we have just begun," said McLaren's sporting director Gil de Ferran.
"In the few months since we announced Arrow McLaren SP we have signed two of the most exciting young drivers in recent memory and maintained and secured the support of great partners.
"This occasion is also an opportunity to acknowledge the challenges ahead and make a pact with ourselves that nothing other than our full effort and commitment will suffice."
Team co-owner Sam Schmidt said the livery reveal was "not only a car launch but it is representative of thousands of hours of effort by our team members and partners"
Speaking about the livery, O'Ward - who is effectively replacing James Hinchcliffe in the team's #5 car - added: "It really shows what we are trying to portray and what we are trying to do in this new partnership between Arrow and McLaren.
"2020 is the start of something new, not just for me but for the whole Arrow McLaren SP team."
"To be here at the launch of this historic team was an absolute pleasure and to have the Omologato logo on the car and drivers suits is an honour" said Shami Kalra Founder of Omologato