The Story of Sir Stirling and the 722
Omologato - 722
722 - the man, the myth, the legend
How much of the Stirling Moss Mille Miglia hype is true, and how much of it has been embellished?
At 7:22am on a Sunday, a pair of Englishmen left Brescia in a Mercedes-Benz for a thousand-mile drive through the Italian countryside and returned, 10 hours, seven minutes and 48 seconds later as heroes.
And so, in winning the 1955 Mille Miglia, the legend of 722 was born, and it still reverberates today. Car lovers nod knowingly when they hear it, in an amplification of the reverence given to Gilles Villeneuve's 27, Nigel Mansell's Red 5, Peter Brock's 05 or Dale Earnhardt's 3.
Except that, unlike the rest of them, 722 earned all of its genuflection in just half a day, averaging 157.65km/h for 1597km of Italian public roads and cities, including all refuelling stops.
And, again, unlike the rest of them, 722 began as a time, not a number, which makes Omologato's 722 even more poignant.
The myth of 722 began with the inarguable truth of the boldness, bravery and skill deployed by Sir Stirling Moss and his co-driver, Denis Jenkinson, to dominate the 1955 Mille Miglia, back when car racing was by far the most popular sport in Europe.
An estimate five million people saw the Mille Miglia first hand, and it was broadcast live on the national radio station - something not offered even with "calcio" until decades later.
But Moss's win, at a new record speed and only the third by a non-Italian in the event's history, grew in the telling, until even fans noticed it had been weighted down by barnacles of mythology.
That transition came with no small help from a Mercedes-Benz looking to redeem its sins from just a decade earlier, re-establish its luxury legitimacy and, critically, recover something publicly palatable from its 1955 season.
Viewed from the outside looking in, a compliant British media (which Jenkinson was a part of) picked up the ball and ran with it, elevating the dashing Moss to superstardom.
The thing is, Moss's 1955 Mille Miglia win didn't need any of this, because the achievement was more than capable of standing above every other win in its era, or even of all eras.
Motoring historian Doug Nye described it as the "most iconic single day's drive in motor racing history". Here, I'll strip out some of the more fanciful mythology that has grown around 722, so the authenticity of what Moss achieved can live on forever, in its stark brilliance.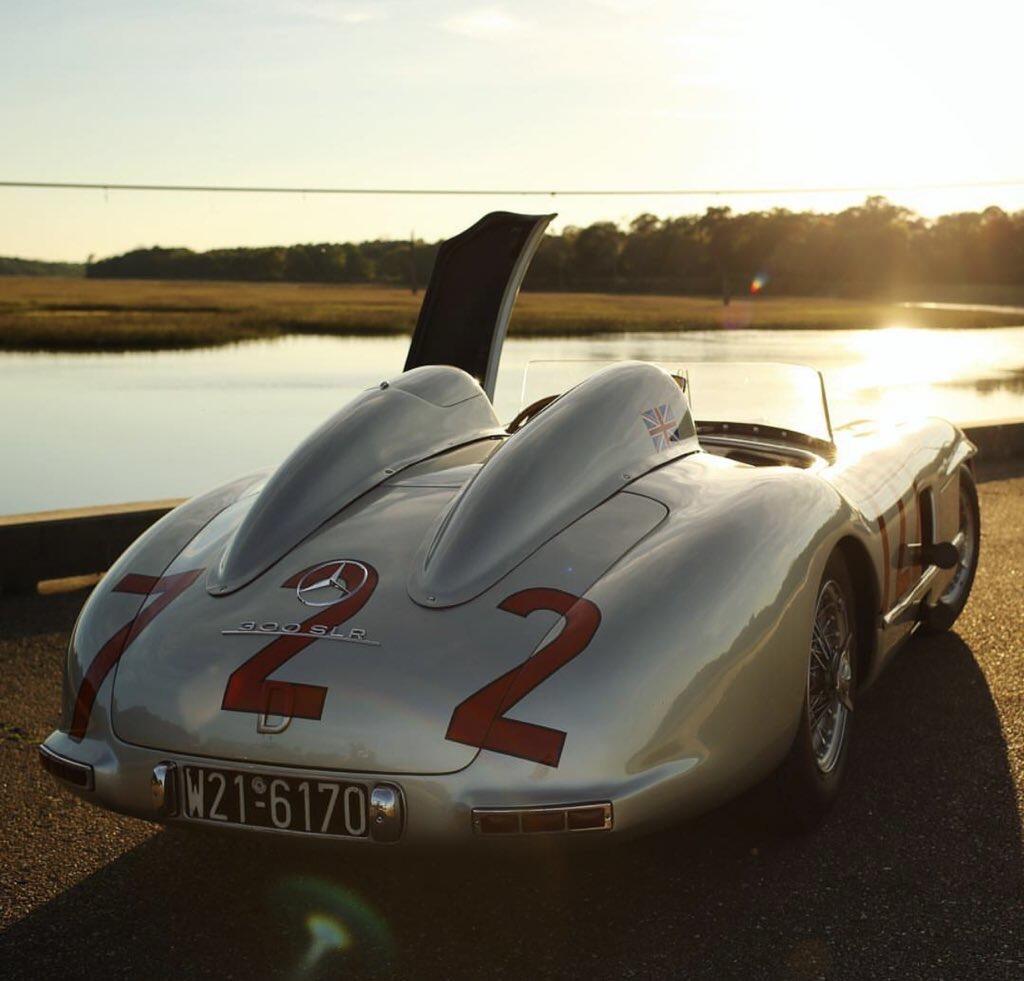 Moss dominated the Mille Miglia as a rookie.
While it's true that Moss was only 25, he ran Jaguars in three of the previous four the Mille Miglias.
His Mille Miglia journey ended in 1957 (with the event's demise), after two more unsuccessful attempts with Maserati, so he only ever finished one Mille Miglia from six attempts.
It should be asked, then, whether Moss the deciding factor in the dominant 1955 win or (because he couldn't catch the lightning in the bottle on five other attempts with any other manufacturer) was it Mercedes-Benz?
Moss's major endurance-racing results in the relatively fragile machinery of the era included eight DNFs from 10 Le Mans 24 Hour starts, and even the way he drove the back end of the 1955 Mille Miglia suggests he didn't exactly have Brabham-esque levels of mechanical empathy.
There was no questioning his speed or skill, though, because of the 529 races he started, Moss won 212, including 16 F1 grands Prix.
Moss didn't know the roads
It's true that the Italians had a decided advantage over everybody else. The record stands at one win for the Brits, two for Germany and 22 for Italy.
Moss and Jenkinson visited the roads of Italy three times, and completed at least six full laps of the route - but they added in dozens of additional passes over the trickier and faster sections.
Benz boss Alfred Neubauer insisted his drivers do at least 8000km of practice on the route. team-mate Karl Kling (who drove solo) ended up doing more than 50,000km on the route, while Moss was somewhere around 25,000km.
By comparison, modern World Rally Championship drivers are allowed just two pre-event passes on each stage - one to write pace notes and one to check them. They also have a strict recce speed limit, where Moss and Jenkinson routinely topped 240km/h on their practice runs.
Jenkinson had a metal roller full of rudimentary pace notes attached to the dash, and gave Moss one of 15 hand signals to tell him where the road went, and how fast he could go.
As any rally driver will tell you, that goes a long way to making up for local knowledge.
Jenkinson invented pace notes
pace notes had been in use in rallying for years, at levels even more advanced than the ones Jenkinson delivered to Moss.
Jenkinson had to adapt standard notes to hand signals because the route was so long and the 300 SLR was open-topped and, famously, very loud. They tried an intercom, but it didn't work well.
The Mercedes-Benz Museum acknowledges that, while Jenkinson significantly evolved what we now call "pace notes" over dinner with racer (and his expected Mille Miglia driver) John Fitch, the true pioneer was Czech racer Elisabeth Junek.
Junek wrote pace notes ahead of the 1928 Targa Florio (as well as using chalk and paint to mark hazards and braking and turn-in points along the route), and used them to lead at one point, only for a late puncture to drop her to fifth.
His drive was flawless
Moss and Jenkinson hit a surprising amount of stuff and still managed to win an epic Mille Miglia.
That's no slight on Moss. It was understandably difficult to master finger-pointing pace notes and a bucking 300 SLR for 1597km, and very few Mille Miglia cars finished the event at all, and even fewer finished with straight panels.
Moss destroyed a 300 SLR prototype and a 300 SL in practice on the Mille Miglia route (as well as killing a sheep).
During the event itself, he had his first off in Padoa, running wide into hay bales to let Eugenio Castellotti through into the lead.
He went off again in Pescara, just after refuelling, running through a line of hay bales and damaging the front end bodywork significantly, forcing Jenkinson to keep a weather eye on the temperature gauge.
He then had a wild double spin on the Radicofani Pass when a front brake grabbed, ending up in a ditch and damaging both ends of the car. Moss got it out with a lot of throttle, but they still needed a six-point turn to get back in the race.
But a lot of Mille Miglia drivers hit a lot more than Moss did, and harder.
Three people died during the 1955 Mille Miglia, including a four-year-old boy, and 15 were badly injured. Frighteningly, that was below the Mille Miglia's fatality average...
Moss set a record nobody would get near
Was it really superhuman to pile nearly 15km/h more onto Piero Marzotti's 143.2km/h average speed record from 1953?
Not really.
The 1955 edition was the only dry and/or fog-free Mille Miglia in living memory, and 1950s cars were getting quicker every year.
The wily Piero Taruffi and his Ferrari almost knocked over Moss's 157.65km/h record in the ultimate Mille Miglia in 1957, averaging 153.5km/h despite running through some rain over the mountains.
Moss is widely quoted as saying nobody would get near his race record, but most people leave off the part where he explained: "...for there probably won't be another completely dry Mille Miglia for twenty years".
In fact, Moss's winning margin of 31:45 over Fangio was less than Alberto Ascari's gap over Marzotto (33:51) in the wet/foggy/dry Mille Miglia the year before...
Moss blew them away from the start
There is another myth that Mercedes-Benz told the other crews to drive steadily for the win while Moss fired out from the get-go as the hare to break the Ferrari squadron, but the hare didn't break.
Moss and Jenkinson insisted there were no team orders and that all four cars could be driven as they saw fit.
Moss didn't blow everybody away from the start, either.
Moss figured he had to add about 3km/h to Marzotto's record average to have a shot at a podium, and third was all he was initially aiming for.
He presumed he had Hans Herrmann's measure inside Mercedes-Benz, but he also presumed Fangio and Kling had his.
For much of the event, he was paranoid that Piero Taruffi, starting last at 7:28, would run him down in the works Ferrari 376 S Scaglietti.
That paranoia wasn't helped when Eugenio Castellotti's privately-entered Ferrari 735 LM Scaglietti, starting at 7:23 in one of history's great short-lived sportscar bursts, ran down Moss's one-minute advantage on the first stage and whipped past him into Padoa as Moss outbraked himself.
Then, with the Ferrari's harder acceleration and higher top speed (the 300 SLR topped out at around 275km/h), he took off into the distance on the straighter northern roads, pulling two minutes on Moss by the time they reached Ravenna.
Moss, though, always assumed Castellotti was in the Mille Miglia for a good time, rather than a long time, and he would extract far too much from the car, so he wasn't concerned.
The wily Taruffi had speed on Moss in the early going, too. Despite Moss averaging almost 190km/h from Brescia to the checkpoint in Pescara, Taruffi lead him by two full minutes after averaging 209km/h (!) on the way.
But then the road turned towards the winding coastal roads, where Moss and 722 would be in their element.
Moss was the star of the Mille Miglia
He was, clearly and incontrovertibly and by some margin, but you will sound like you know stuff if you add this very small addendum…
The organisers of the Mille Miglia started the slowest cars first, which helped with having the roads closed for the least time, and the first cars started in Brescia at 21:00 (9 pm), before Moss had even gone to bed on Saturday night, so 722 was whipping past slower cars for the entire event.
Moss and Jenkinson themselves were shocked, then, that it took them until Piacenza, about than 200km from the end of the Mille Miglia, to pass the fastest of the 2.0-litre cars, which had started at 6:21 on Sunday morning.
"We saw a 2.0-litre Maserati ahead which shook us perceptibly for we thought we had passed them all long ago. It was number 621, Francesco Giardini, and appreciating just how fast he must have driven to reach this point before us, we gave him a salutary wave as we roared past, leaving Piacenza behind us," Jenkinson wrote in his epic first-hand account of the drive for Motorsport magazine.
The Italian hammered his two-year-old, 170-horsepower Maserati A6GCS/53 into fourth outright at an average of 141.84km/h - only 15.8km/h down on Moss and just 22:45 off the podium.
It was one of the greatest unsung drives in motorsport history, and it also deserves to be remembered.
One man against the might of Ferrari
Ferrari had dominated the Mille Miglia so much in the post-War years that it had developed an unhealthy entitlement, snapped by Alberto Ascari and Lancia in 1954.
1955, though, wasn't peak Ferrari. There was dissension in the ranks (leading to the team manager later being sacked) and a huge dispute with the tyre supplier.
Mercedes-Benz, on its Mille Miglia debut, showed that clinical professionalism could trump expertise and fizzing passion.
Mercedes-Benz arrived at the Mille Miglia with four 300 SLRs for Hans Herrmann, Karl Kling, Juan-Manuel Fangio and Moss, all of whom had Grand Prix podiums.
Effectively two-seat Formula 1 cars, they'd had their 2.5-litre engines bored out to 3.0 litres and tilted over 33 degrees for better aerodynamics from the magnesium-alloy bodyshell.
Mercedes-Benz also fielded more cars for the Gran Turismo over 1300cc class, and more again for the diesel class (both of which it dominated, finishing first-second-third).
Reigning champions Lancia sat out the Mille Miglia in favour of Formula 1, but Scuderia Ferrari brought out cars for Umberto Maglioli, Marzotto, Sergio Sighinolfi and Taruffi, while there was a privately entered Ferrari for Castellotti.
Maserati sent Cesare Perdisa out in a 300S, while Aston Martin had Peter Collins in a DB3S and Paul Frere and Tommy Wisdom in a DB2/4S, and there was an entire fleet of Austin Healeys.
Even though it was a round of the World Sports Car Championship, Jaguar stayed away.
It was a Mercedes-Benz master class, with the German cars finishing first and second outright, first, second and third in the GT class (won by Fitch, who was fifth outright) and first, second and third in the diesel class.
Two leading Ferraris blew tyres, with Marzotto surviving a tyre failure at 280km/h to join Castellotti in retirement, presumably relieved that Ferrari hadn't seen fit to give him a spare wheel that fitted the car.
Jenkinson was the perfect navigator
Credit where it was due, because Jenkinson and Moss gambled on a relatively new system to minimise their local-knowledge deficit and it paid off.
Moss relied heavily on Jenkinson in the faster parts, to know whether crests were flat out or not, how severe fast bends would be and which bends and hazards were notoriously tricky.
But it all could have gone badly awry for a Mercedes-Benz that wanted to win, regardless of the cost, because of what Jenkinson didn't do.
From a modern team manager's perspective, Moss pushed too hard in tiring machinery at the end and should have backed off hundreds of miles before the end to secure the win, and that was on Jenkinson.
Moss had the race in the bag by Florence, on the run back up the Italian spine, and could cruise home. But he didn't.
Two of his team-mates were out before Bologna, with Kling crashing to avoid spectators near Rome and Herrmann crashing over the Passo della Futa north of Florence trying to hang on to Moss.
His last team-mate, Fangio, was wounded, replacing a fuel-injection pipe, limping along on seven cylinders and in doubt to finish the race.
Moss was justified in pushing to Florence, because his lead over Herrmann was only 5:48, but Herrmann's crash saw him roll into Bologna with a 27-minute lead.
The Ferrari of Taruffi and the Maserati 300S of Perdisa didn't make it to Siena, south of Florence, but Moss still pulled 4:30 on the nearest non-Mercedes, the Maglioli Ferrari, between Florence and Bologna alone.
But Moss didn't know any of this, because his navigator didn't tell him.
And his navigator didn't tell him because he couldn't convince Moss to sit still long enough at refuelling stops to get the crucial pieces of paper from the team.
Instead, Moss charged off determined to win the Nuvolari Cup, for the fastest time between Mantova and Brescia on the last stage, where he averaged 265km/h. This wasn't just vanity.
Taruffi's Ferrari gouged time out of 722 on the straight Po Valley roads from the start and, after he'd slid the Mercedes-Benz in front over the mountains, Moss was worried that Taruffi would outpace him again on the straight northern roads back to Brescia.
On an event like the Mille Miglia, with a half-hour lead and your last team mate staring a DNF in the face, it would have only needed a small mistake by Moss, Jenkinson, a slower car or a spectator to have seen Mercedes-Benz's enormous investment poured down the drain…
... Leaving Ferrari to snatch an unlikely victory from the jaws of defeat.
Instead, they got away with it, charging to Brescia flat out, trying to break the 100mph average speed barrier, and became heroes.
And was it ever glorious.
Mercedes was untouchable
This is the closest to the truth of all the myths, and it's one of the reasons Moss finished at all, much less won.
As skilled as he was, and as fast as he was, as ethereal as he drove on the day, the Mercedes-Benz preparation still stands out.
Neither Ferrari nor Maserati had the resources to pile in to motorsport in 1955 the way Mercedes-Benz did, neither did they have the all-consuming determination nor organisational wizardry.
Mercedes-Benz only went there because it was the third round of the World Sportscar Championship, but when the 1955 Mercedes-Benz did something in motorsport, they set standards in professionalism that would not be matched, by anybody, for decades.
Of the four 300 SLRs, two had mechanical issues, with Fangio's injection pipe breaking and Herrmann allegedly running out of brakes and crashing while trying to stay within a tyre change of Moss over the Futa Pass.
Kling crashed trying not to add to the Mille Miglia's appalling tally of spectator deaths (which ended officially at 56, that officials knew about, more than half of which were on the ultra-fast road between Brescia and Ravenna).
Even in the sections where the Ferraris had 722's measure on the road, Mercedes-Benz's efficiency overhauled the deficits off it.
The longest time 722 spent stationary in the entire event was 64 seconds in Rome, where Moss got out for a pee.
Ferrari's shortest stop was longer than that.
So why the mythical status?
Firstly, who doesn't love a good against-all-odds story, eh?
Moss is a motorsport legend, and so was his drive at the Mille Miglia, but some context reveals a whiff of propaganda about the elevation to mythology.
Firstly, Jenkinson's selection virtually guaranteed that Mercedes-Benz controlled the Mille Miglia narrative in the English-speaking world.
It's telling that when they moved Fitch out of the 300 SLR and in to the Gullwing, they kept Jenkinson in the main game.
The mythology of 722 makes more sense viewed through the prism of the 1955 World Sportscar Championship season.
Mercedes-Benz won the championship, and Moss winning three of the six races (with Fitch at the RAC TT at Dundrod, and with Peter Collins at the Targa Florio).
There was no drivers championship, so no world title came Moss's way.
A world championship that included the 1000km Buenos Aires race, the Sebring 12 Hour, the Mille Miglia, the Le Mans 24 Hour, the RAC TT and the Targa Florio was almost guaranteed to deliver fatalities.
The race Mercedes-Benz didn't finish stands out in motorsport history, far more than anything win it achieved in 1955.
In the next race after Moss's Mille Miglia triumph, Pierre Levegh's 300 SLR (shared with Fitch) ploughed into the main Le Mans grandstand in a crash not of his making, killing 84 people and severely injuring another 120.
After shattering on impact, the magnesium body caught fire, showering the grandstand with heavy, high-speed, burning debris that fire marshals initially made worse by pouring water on them.
Added to the three killed in the Mille Miglia and the three more killed in the TT and, 10 years after the end of WWII, the public was souring on indifference to dead innocents.
Ninety people died, in just one year of the World Sportscar Championship.
Mercedes-Benz had won it, but how could they lionise that effort, knowing one of their cars had killed 83 spectators?
Mercedes-Benz had crushed the might of Ferrari, Maserati, Jaguar and Maserati in both Formula One and sportscars, but the Le Mans tragedy shelved every marketing initiative it had prepared.
Mercedes instead withdrew from all motorsport (as did class winners Bristol) and stayed away for 30 years.
All it could salvage was the only thing left standing, unsullied, in the wreckage of the hideously expensive 1955 season: the innocent, heroic, chivalrous tale of Stirling Moss, Denis Jenkinson and the 300 SLR number 722.
And now you know the whole truth, and can make up your own mind.
For me, Moss's win in 722 sounds even more remarkable, and more human, once the myths are stripped away.
As long as there is motorsport, people will talk about Stirling Moss and 722 as one of the greatest achievements in the history of motorsport.
And that's as it should be.
by Michael Taylor