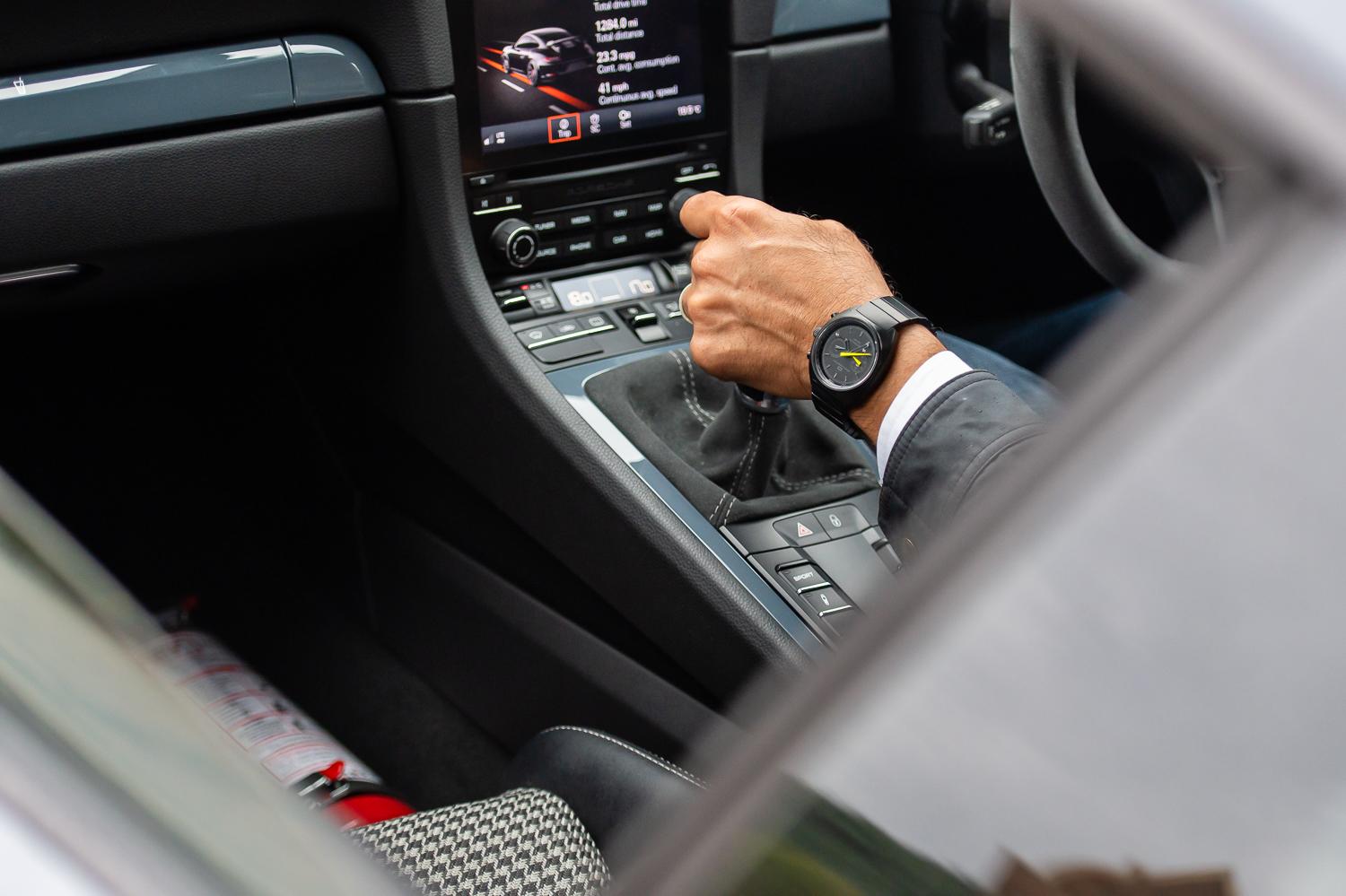 Features include : 
Acid yellow highlights, Black IP plated case, Gloss black hour and minute needles. Seconds needle with Acid Yellow detail.
Design ethos : 
Weissach has always been a place that developed the most important sports and race cars in history. The colour Acid Yellow is used visibly in a lot of Porsche development cars as well as the high tech road cars, incorporating it was an easy decision. 
We've used a lot of customer feedback from the 1st and 2nd generation to evolve to this 3rd generation Weissach®.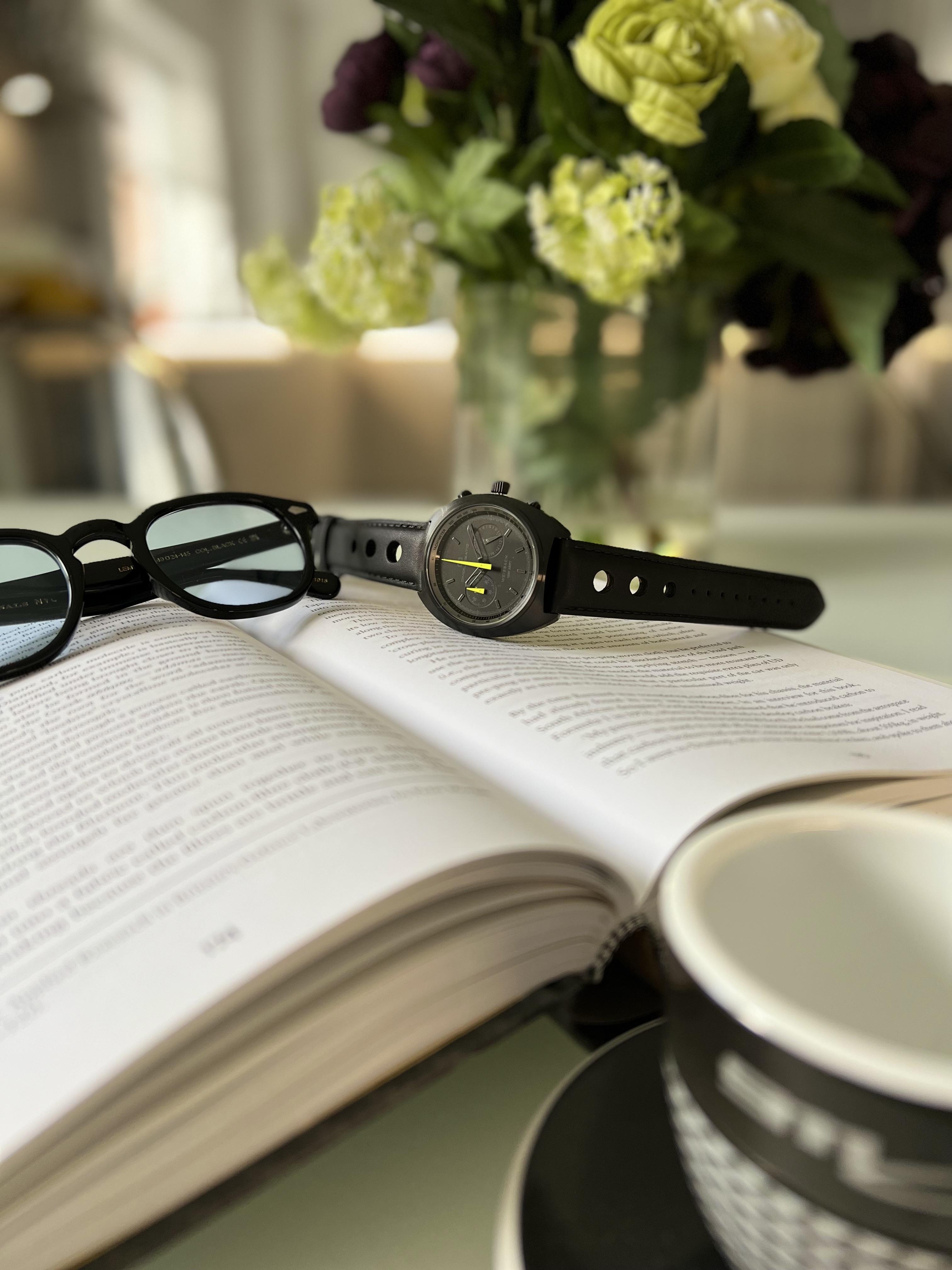 The Story
Porsche Motorsports at Weissach, known in German as 'die Porsche Rennabteilung Weissach' is where racing legends were and are still born. Mention the town name of Weissach to any petrolhead and they come alive with the excitement of innovative motorsport ideas.
For any Porsche enthusiast, the word "Weissach" carries a special cachet. To most admirers of the brand from Zuffenhausen, it means a mythical research centre where access is limited, a cross between Aladdin's cave and a sorcerer's castle, a place where magic happens. 
In fact, this description is pretty close to reality. 7500 people work in a small, wooded village, just 25 kilometres from the main Porsche site at Zuffenhausen. The facility where so many incredible cars were designed, built and tested, is flanked on one side by the legendary Weissach test track. On the opposite side of the test circuit the Motorsport facility is located, technically in the village of Flacht. Everything is hidden behind rows of trees, keeping the curious away. The official name of the establishment, "Entwicklungszentrum Weissach", sounds very German, very precise.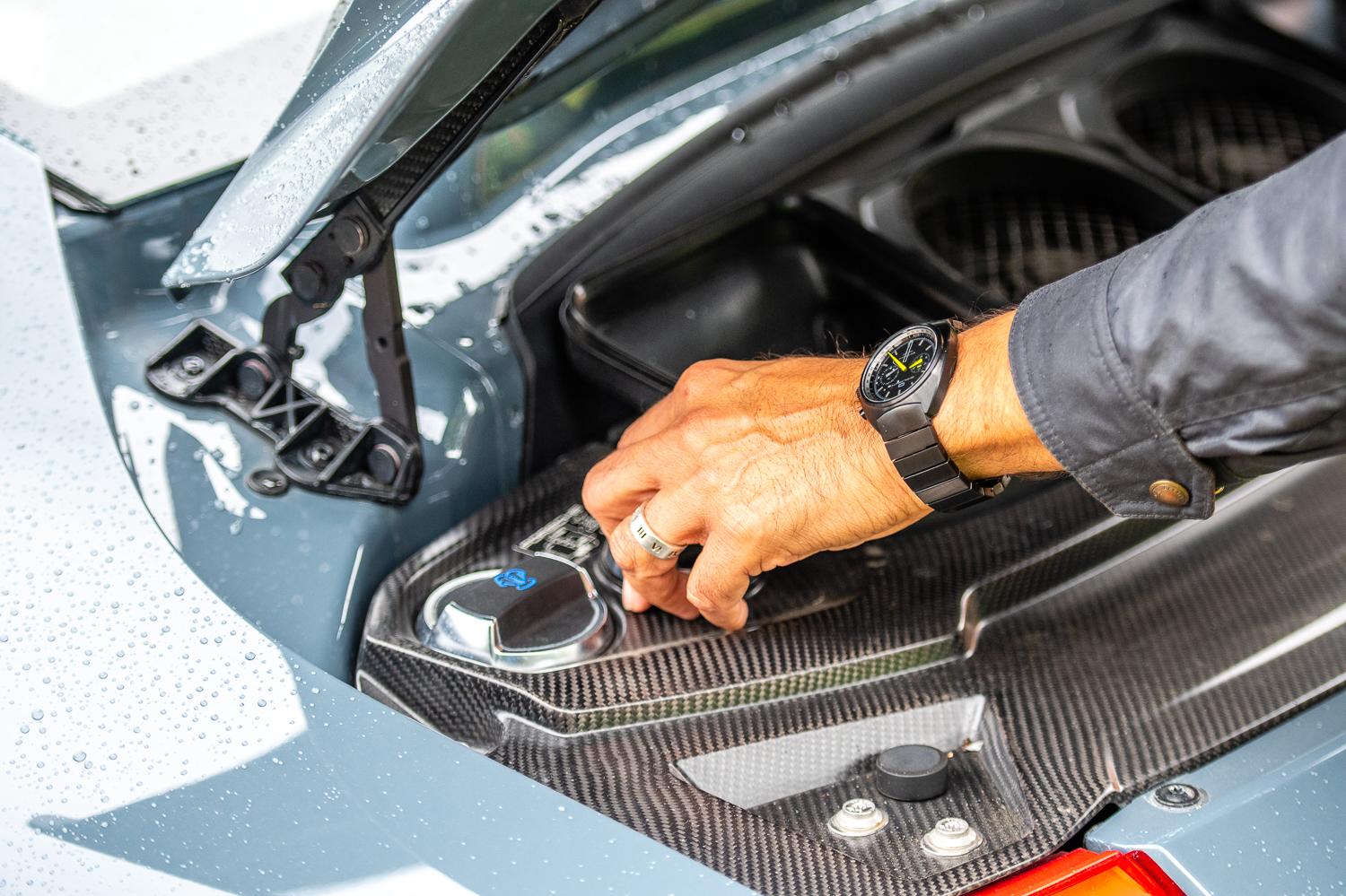 The technology transfer is obvious between the two research and development units, as every Porsche sports car model ends up engaged in some sort of competition. The reason Porsche makes the transition from road cars to race cars look so simple is because everything is developed with a high degree of excellence. Each constituent part of a new car is thoroughly tested, and made to fit the rest of the complex machine very much like a tiny moving cog in a watch mechanism. No other car company displays such an ethos, and the flame is kept alive at Weissach, the temple of the rear-engined sports car.
The way Porsche has always worked comes through in an anecdote about Professor Helmuth Bott, who for many years ran the R&D unit at Weissach, contributing to much of the Porsche engineering legend. After a long gestation period, the 959, the most complex sports car of the era, was to be signed off for production. Many customers had already parted with their money, and the car had to be perfect. The tall, imposing Bott took a development car for a validation drive, alone. When he had been gone for several hours, his team of engineers started to get anxious: what if the car broke down? What if something went very wrong? 
They were trembling with fear when Bott finally appeared, coming through the gate in a completely dirty car. He got out, slammed the door shut, and looked at the engineering team in total silence. The only sound extant was the ticking of the cooling engine, with its innovative sequential turbochargers. The only smell, the acrid aroma of abused brake pads. "It floats at 200 kph!", declared the boss. The engineers just stood there, stunned. All the hard work, weeks in the wind tunnel, thousands of hours on the test track and on public roads, and all for nothing. Several may have been contemplating handing in their notice. "...on gravel", added Bott and stormed off to his office, a smirk on his face.
The car was, and is, fantastic, a tool able to recalibrate one's brain, a tool which grows sharper as the driver's skills improve. It was so good it won the Paris-Dakar Rally, and even the 959 carrying spares and tools ended up on the podium. It went to Le Mans as the 961, and it won its class. Granted, it did not make the company any money, but it moved the goalposts and showed to the world that the Weissach engineering spirit had no equal. It also became the foundation for future innovation in Porsche road and racing cars.
The Weissach test drivers do not race, but if they did, they would surprise many professional racing heroes, so high is their skill level. We know one of them who specialises in tyre testing, and who has done thousands of laps of the Nordschleife: trying to follow him at the same turn of speed is an exercise in humility. He and his colleagues honed their skills on the local test circuit, inside Weissach.
The track is a loop with a junction which makes it possible to choose a tighter handling section, or a very fast banked part where 200 kph in a G-series Cabriolet fells sublime. It is not a racing circuit, so there is not much of a safety margin, and obviously no coloured run-off areas like at Paul Ricard. Threading a pristine 993 Turbo, the last air-cooled turbo to be made in Zuffenhausen, through the corners, feeling it slide ever so slightly with all four wheels, can only be described as a gateway to Porsche heaven. Porsche cars come alive here, as this is their breeding ground. 
For Weissach engineers there is no such thing as a task "performed too well". They provide outstanding consulting work for a number of other car companies, solving problems with which those companies struggle. Weissach has helped many car makers create great production cars, it created a police motorbike and an airplane engine, and continues to help clients who value the fantastic depth of skill and experience which has its home at the Weissach facility. "Weissach" stands for unparallelled engineering talent, a giant store of theoretical and practical knowledge, a unique problem-solving approach and a gift for lateral thinking. Very much like... Omologato itself.
Spec : 
Case: 
Diameter: 42.0mm width - 11mm height
Material: Stainless steel with robust Black IP plating
Dial Colour: Matt Dial with gloss Charcoal indexes
Movement: Seiko Meca- Quartz Chronograph
Water Resistance: 10ATM
The dial incorporates high quality contrast finishes on the time indexes. 
Glass : Flat Sapphire glass 
Strap: 
Width: 22mm
Material: Italian leather
Colour: Solid Black Metal or Italian Rally Strap   
Weissach® is a registered trademark of Omologato Ltd for Class 14