Can it be 20 years since Rubens Barrichello won the British Grand Prix?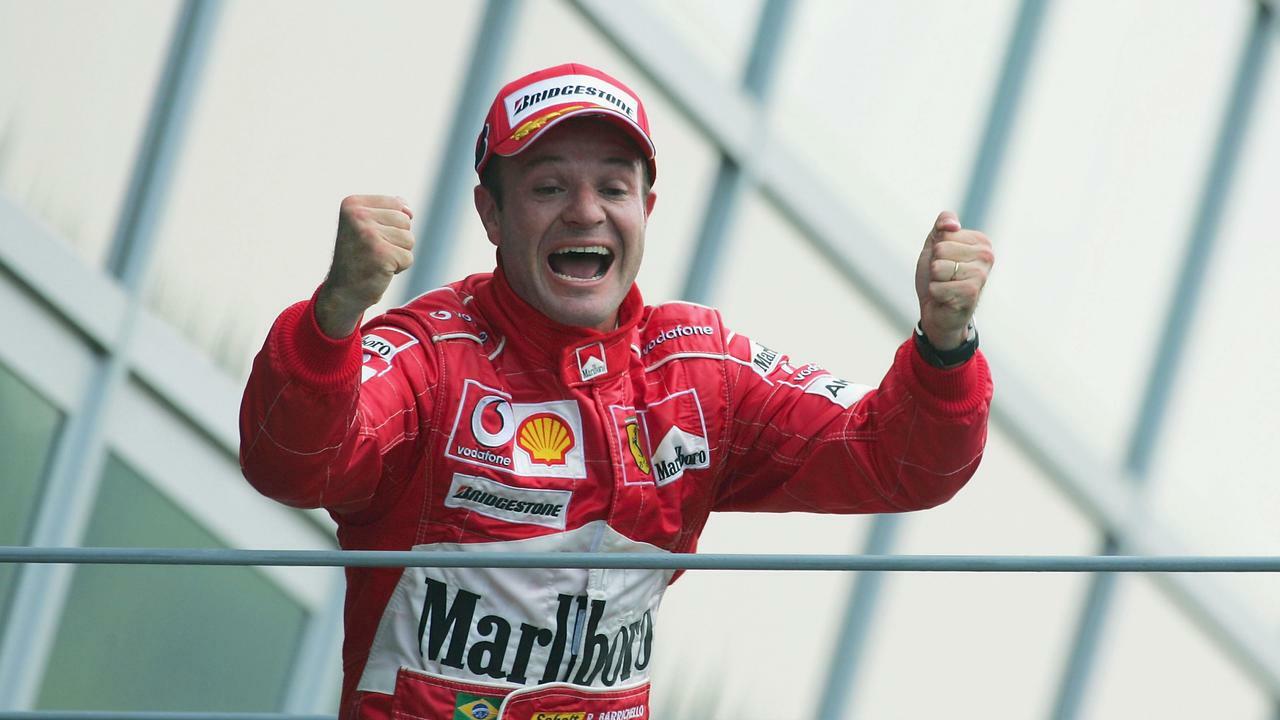 image copyright R Barrichello
by Matt Bishop
Can it be 20 years since Rubens Barrichello won the British Grand Prix? Yes, it can be, it is, and, if you are reading this blog on the day that it was posted, 20 July, then Barrichello's wonderful Silverstone win took place exactly 20 years ago, on this day, or #OnThisDay for those who follow me (@TheBishF1) on Twitter.
On paper the result now looks straightforward enough. Barrichello's Ferrari F2003-GA (suffixed in honour of major Fiat shareholder and Italian super-mogul Gianni Agnelli, who had died at the beginning of the year) was a good car; Rubens put it on the pole; he drove fastest lap; he won the race. Easy-peasy, right?
Er, not quite, no. First, Barrichello made a poor start. The first 11 laps were thereby led by Jarno Trulli, an underrated driver nowadays in my opinion, who had qualified his Renault R23B alongside Barrichello's Ferrari F2003-GA on the front row. Kimi Raikkonen had qualified his McLaren MP4-17D third, and he too forced his way past Barrichello at the start. Who knows how things might have panned out had the race then run to a normal pattern? But it did not. On lap 12 Cornelius Horan, a defrocked Roman Catholic priest, ran out onto the Hangar Straight, carrying a banner extolling the virtues of regular bible study and the pre-eminence of the glory of god. He very nearly met his maker then and there, and indeed he seemed to be seeking that outcome, because he dodged towards the fast-oncoming F1 cars, not away from them, and he was very nearly torpedoed by Mark Webber's Jaguar R4, which Webber later estimated had been travelling at 175mph (282km/h) at the time. The Safety Car was duly deployed, and most teams elected to call their drivers in for slightly earlier-than-planned pit stops. The Toyota team did not, however, with the result that Cristiano da Matta and Olivier Panis led the next dozen-or-so laps in serene one-two formation. It was an odd strategy call, truth be told, and it did not work: da Matta ended up seventh, Panis 11th. One can only hope that the extra TV air time helped Toyota sell a few extra Corollas and Celicas the following day.
The pit lane had been so congested immediately after Horan's track invasion that many teams had had to stack their pit stops, delaying and disadvantaging the drivers who had had to stack. Raikkonen and Barrichello both got through unhindered, however, and soon they began to fly. They passed the two Toyotas then set about an exciting dice of their own. Barrichello took the lead when Raikkonen made his second pit stop. When Rubens made his second pit stop, Kimi retook the lead. Barrichello then recaught Raikkonen, and another epic dice ensued between them, before Rubens finally pressed Kimi into a mistake, and passed him with two wheels on the grass to take his finest Formula 1 victory.
Horan was gaoled for two months for aggravated trespass. Two old-school F1 bosses made post-race remarks that were in accord yet revealed their very different characters. Ron Dennis frowned and said: "The situation was suboptimal, clearly, but no blame should be apportioned to the organisers." Peter Sauber took a long drag on a big stogie, smiled, and said: "When a man sets himself on fire on a Paris street, no-one blames Paris."
Horan was at it again the following year, 2004, at the Olympic Games in Athens, running among the elite athletes during the Marathon, even attempting an ungainly rugby-tackle on the leader, Vanderlei de Lima, with about four miles (6.5km) to go. The scuffle lost de Lima about 20 seconds, and, even more important, it knocked the stuffing out of him. He ended up third. Horan was arrested, fined, and given a suspended sentence, but not imprisoned again, until, in 2006, he was apprehended in Berlin while attempting to stage a pro-Adolf Hitler demonstration to coincide with the football World Cup Final, which caused him to wind up in gaol again.
He entered Britain's Got Talent in 2009, but did not progress to the later rounds; after all, talent was something that he did not have. In 2017 he attempted to picket the court at which Rolf Harris was being tried for sex offences - Horan's action was in support of Harris, believe it or not. Most recently Horan has publicly made racist remarks about Rishi Sunak's unsuitability to be Prime Minister of the United Kingdom.
Barrichello won at Suzuka later in 2003, at Monza and in Shanghai in 2004, and in Valencia and at Monza in 2009. Altogether he won 11 F1 races and started 322 grands prix, which places him third on the all-time appearance list behind Fernando Alonso (365 not out) and Kimi Raikkonen (349), and just ahead of Lewis Hamilton (320 not out).
Less well known is that, at 51, Barrichello is not only still racing but is also still winning, in the Brazilian Stock Car Pro Series. He has won 20 races in the series so far, from 212 starts, and is the reigning champion. He is a lovely guy and a devout Christian, and I am sorry to have had to pollute my account of his wonderful 2003 British Grand Prix victory with tales of the damn-fool antics of a fake Christian, but life can be very odd at times, and so can F1. All we can say now, exactly 20 years later, is thank god Cornelius Horan did not manage to kill himself, or indeed anyone else, on the Hangar Straight, that crazy afternoon.
by Matt Bishop
Discover the Maranello 1961- CLICK HERE