MORE STOCK ARRIVES August 2022
We're really proud to announce that we have chosen The Big Cat Sanctuary as our official charity. The wonderful people there preserve these beautiful cats with a breeding programme and support other efforts around the world solely by donations.
Design Ethos
The BCS Watch was designed to represent the most powerful animal in the wild. The striking colours of the NATO strap immediately spell out the  power of a Tiger without needing an explanation. We've kept the dial simple but again the logo of the Big Cat Sanctuary is enough to tell what you're about and what your values are. 
The Big Cat Sanctuary was founded in 2000 and is a UK registered conservation charity which is home to over 50 wild cats.  A 32 acre site hidden in the peaceful Kent countryside began by default as a refuge for rescued cats. Now recognised as a centre of excellence and one of Europe's biggest wild cat centres making global partnerships and supporting conservation initiatives.
Their  cat collection spans over 15 different species from the world's largest to the smallest, also including:
     Tigers     Lions     Leopards    Jaguars    Snow Leopards   Pumas   Cheetahs   Pallas's Cats 
 The organisation has four pillars of ethos which are welfare, breeding, conservation & education. It is by working with these objectives in place we are securing a future for both big and small cats by conserving and restoring the balance of the ecosystem in which predators play such a vital role.  We are helping to create a future for some of the planet's most endangered and iconic species.
 The breeding centre is proud to be part of the EEP (European Endangered Species Breeding Programme). This body regulates the captive breeding of endangered cats by making recommendations for breeding to produce a strong, healthy and diverse gene-pool within the captive population. The ultimate aim being that they be reintroduced safely into their natural habitat globally, to mix with their counterparts in the wild.
 They continue to work on projects with our trusted partners in places such as Kenya, Uganda, Europe, Japan, Russia and the USA. Their education and funding initiatives raise awareness amongst people from all walks of life about the plight and challenges faced by these endangered cats.
 Their breeding success to date includes the Amur leopard which is the world's most endangered big cat, with less than 70 remaining in the wild globally, also Sumatran tigers, Cheetahs, Amur tigers,  Pallas cats and most recently with Snow leopards.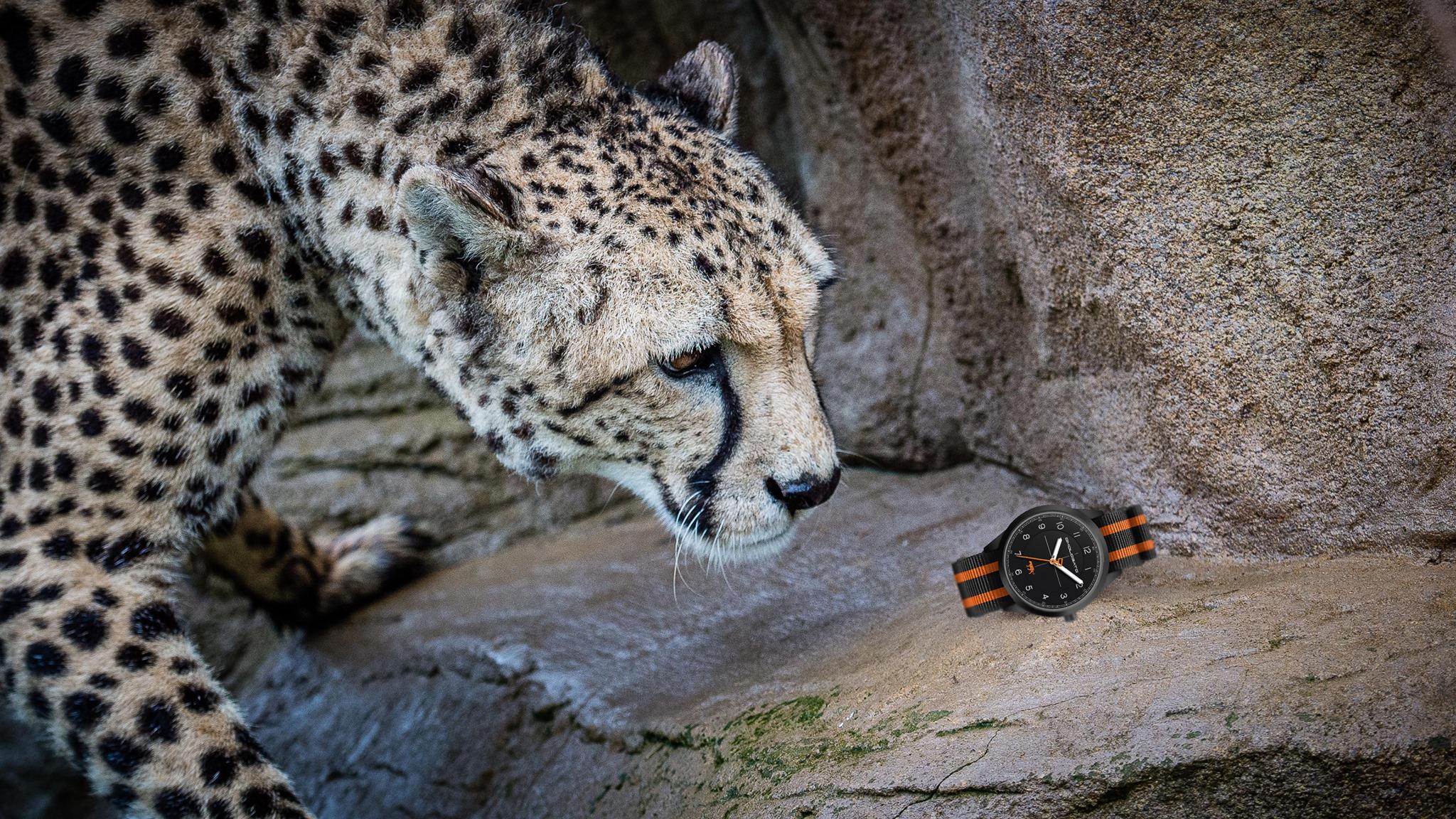 Profits from this watch will be going direct to the Sanctuary


TECH SPEC :
Case : 39mm diameter 10mm depth 
Movements : Miyota OS10 Japanese Quartz
Case : 8037L Robust Stainless Steel Handmade SS case and SS bezel, laser logo on case back
Glass : Flat Mineral Glass
5 ATM water resistant
With custom Omologato logo second hand