In Stock
Design Ethos
Fiorano® has been one of the most difficult watches to design. We had to make sure the dial and colour represented the track and the history correctly. The crimson red colour is taken from some of the most famous race cars to be tested at Fiorano, the sub dials represent the race car number roundels and the digits from the fonts found on a number of 1950's race cars.
Furthermore we made a bespoke case finished off with sapphire glass to make a totally unique piece.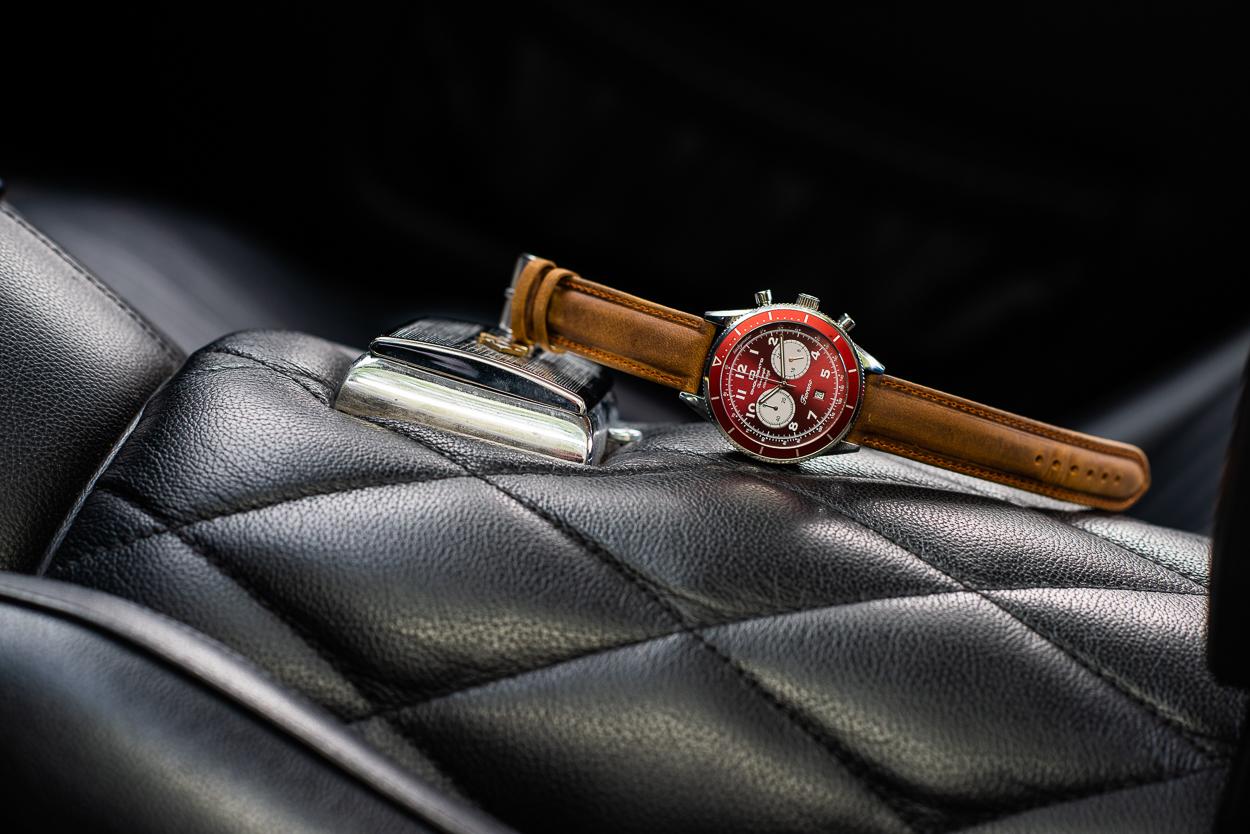 shown with optional Suede Strap - available HERE
Fiorano by Michael Taylor
Purists insists the glory days of Ferrari's Fiorano test track were the 1970s, when Enzo Ferrari read his newspapers while he listened to his V12 and flat 12 Formula 1 cars.
It's not true, though.
Fiorano's actual glory days were during the 1996 to 2006 Michael Schumacher era and continued on until Formula 1's test restrictions squeezed it beyond relevance.
Ferrari surrounded Schumacher with a super team, including manager Ross Brawn and 99-win designer Rory Byrne. 
It upgraded Fiorano to meet the FIA's Grade One standard, leaving the figure-of-eight circuit just three metres shy of 3km. 
It renovated the garage to replicate pit lane specifications, made a small grandstand and gave it a helipad, all built around Enzo's trackside house. It could replicate wet weather, drizzle and torrential downpours, and it even had multiple time sectors in each corner.
Today, sadly, Ferrari no longer tests its Formula 1 cars at Fiorano. It occasionally runs privately owned Formula 1 Ferraris and it hosts launches of new cars and is there to test and develop road cars.
It has problems with noise restrictions, particularly out of its final spoon curve, where the encroaching residential buildings of Maranello have brought an unwelcome dose of reality to its romance.
None of that worried Ferrari during Schumacher's glory days. 
Ferrari and Sauber Formula 1 cars tested on Fiorano at least three days a week in the pre-season, with their V10s screaming beyond 20,000rpm.
Nobody needed tickets to see or hear them, either. They could simply stand on the overpass that joined the Fiorano village to Maranello. They could also stop just beyond the overpass and walk back to well-trodden gaps in the trees, behind the Armco, to watch them blast past the pit complex and flit through the flat left kink before braking impossibly late from 290km/h for the short, tight right hander.
They'd blast up the short straight that runs alongside the skid pan before hauling down again for the long, long left hander that eventually flicks left and screamed into the figure-of-eight track's bridge.
People knew enough to their own ear protection, binoculars, seats, refreshments and even stopwatches, though they didn't know what Ferrari was testing on any given day. 
They heard them from as far away as Formigine and flocked to Fiorano. They stretched for a glimpse of Schuey, Heidfeld, Massa, Irvine or Badoer. And during the golden springs and summers of the late '90s and early 2000s, it seemed like they were there most days. And the air was torn apart as a band of well-natured regulars and sporadic visitors crammed around the tiny track – and anybody could join them.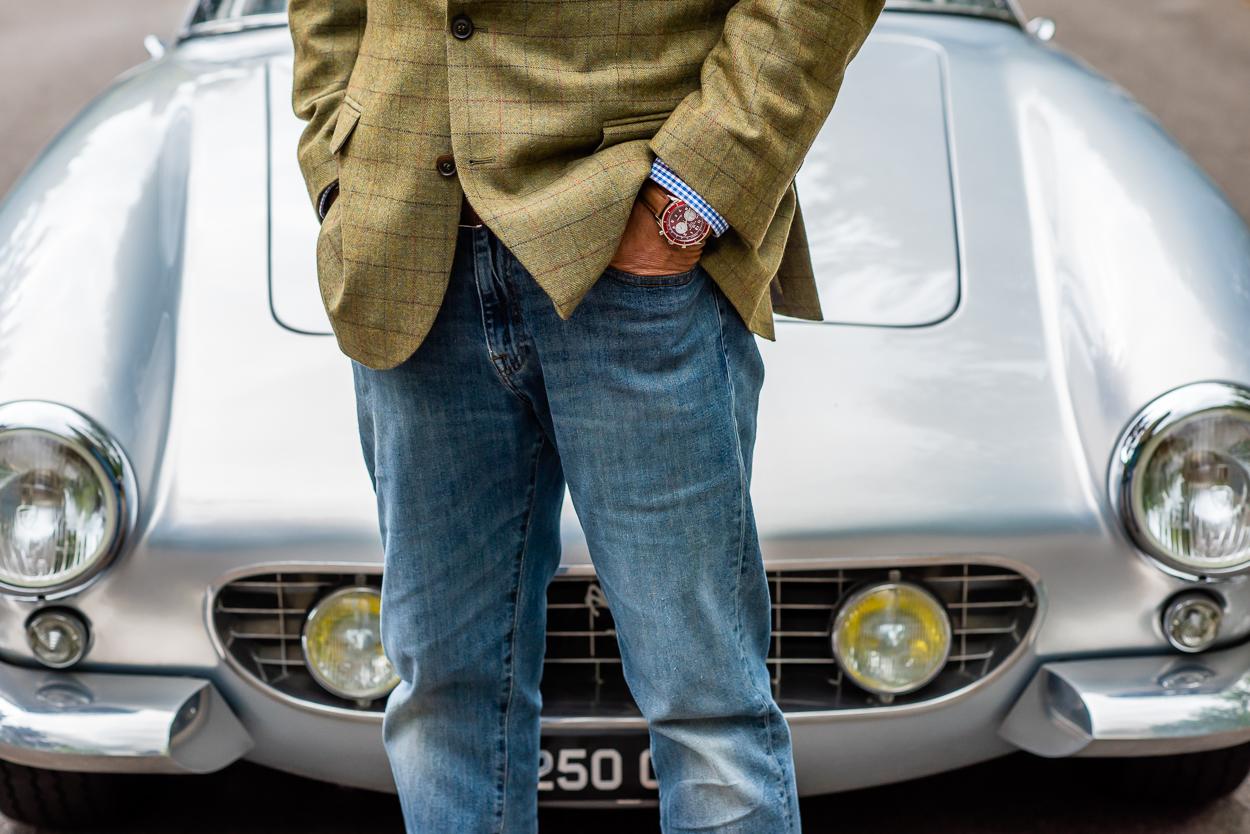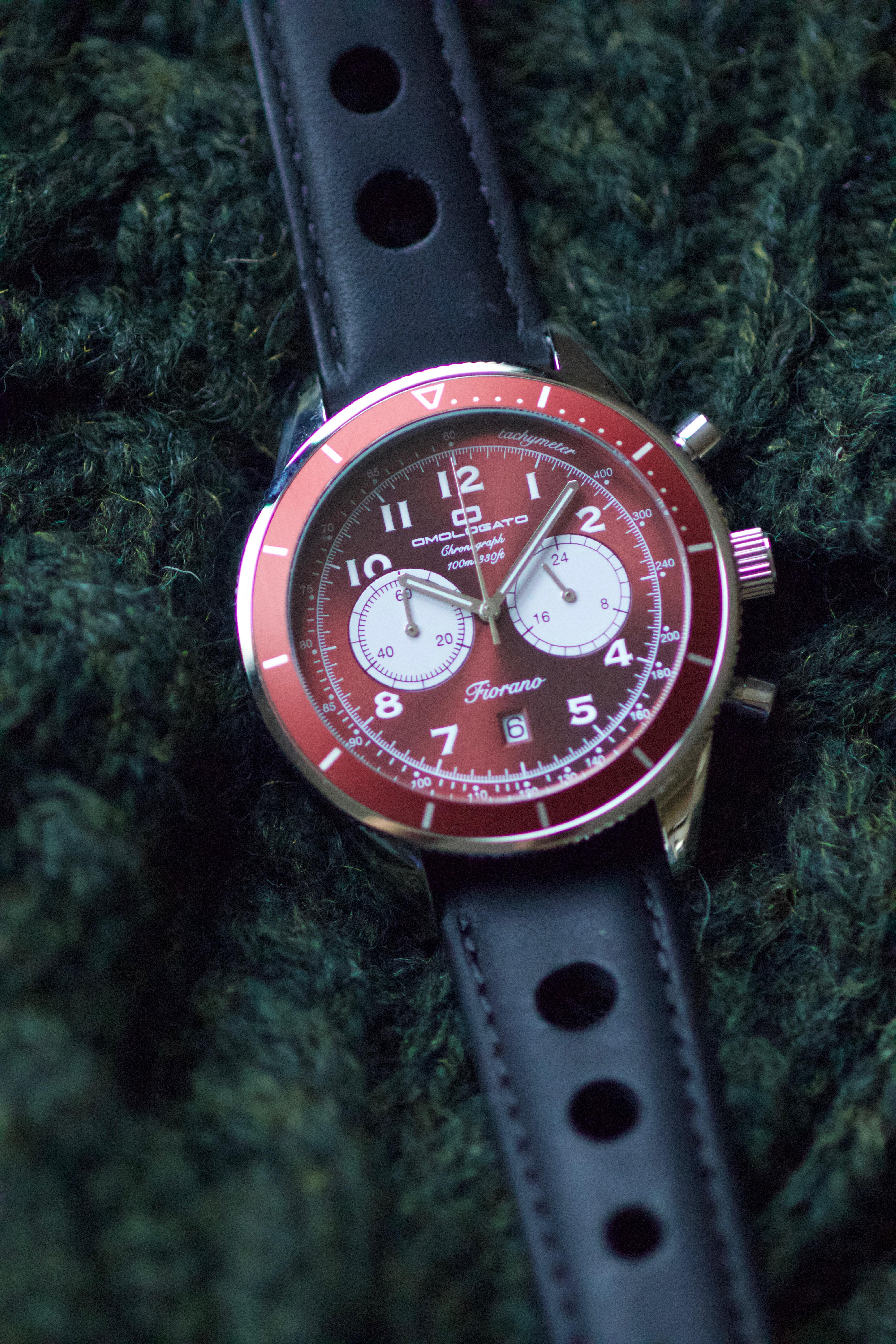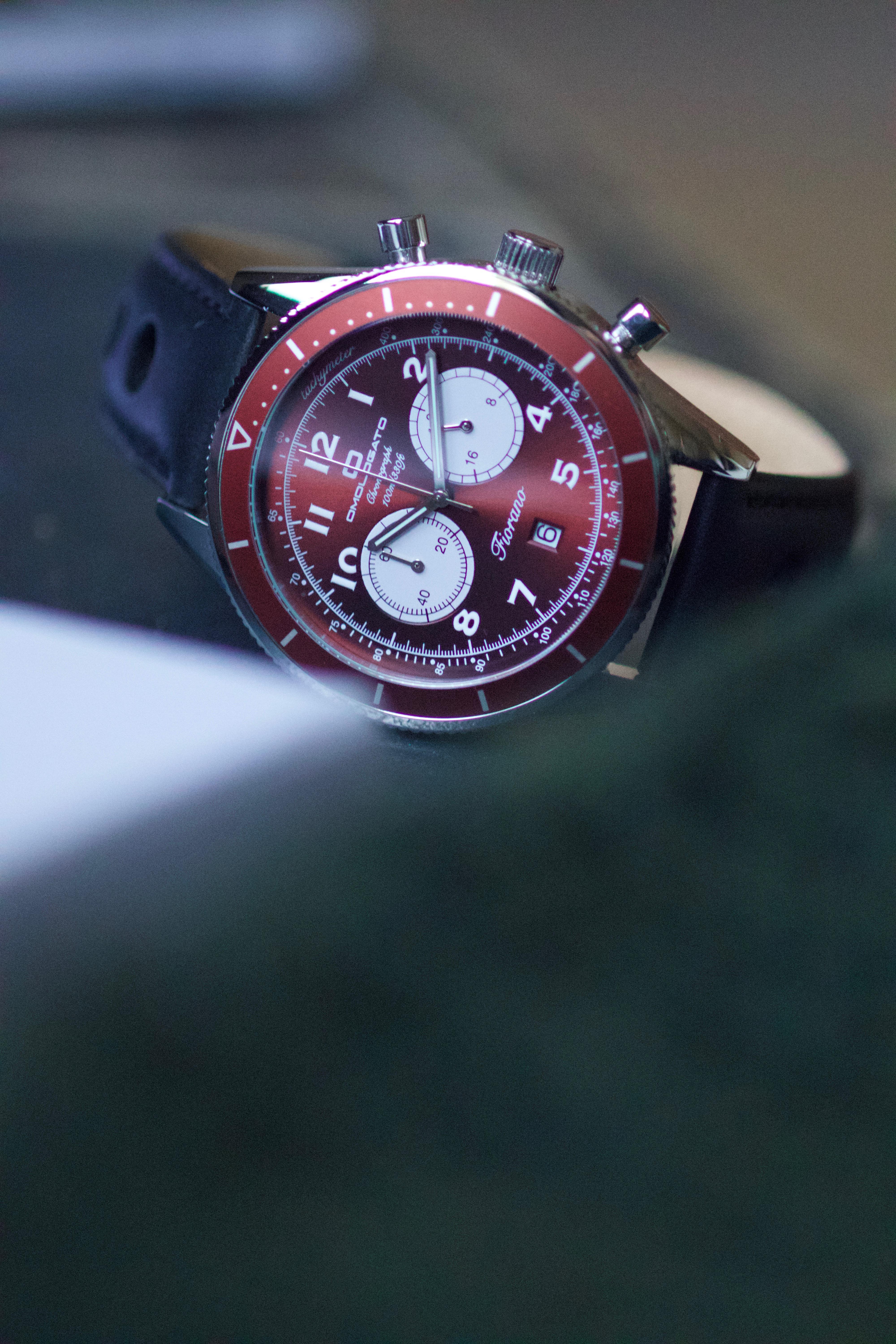 Omologato are proud to celebrate the history of Fiorano with this chronograph.
The Fiorano® Chronograph has been developed and engineered with absolute precision by our team of specialist watch makers in the UK. Each individual watch is numbered in a limited series and finished with flat sapphire coated glass over a profound crimson red dial to ensure both legibility and clarity. Fitted with our ultra accurate meca- quartz movement this 42mm chronograph optimises the simplicity of timekeeping. Made from the highest calibre 316L stainless steel this watch is built with character and endurance.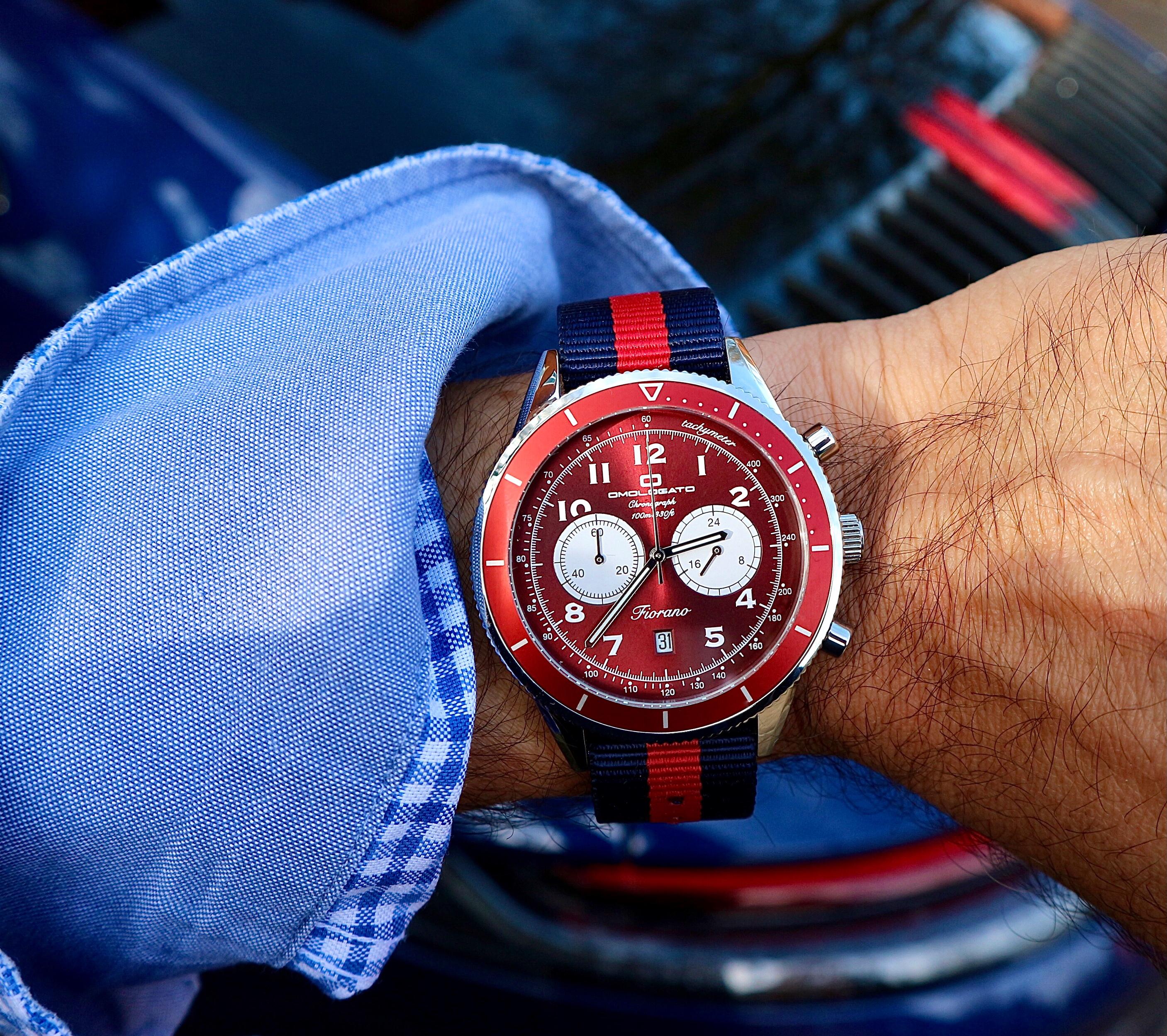 In Stock 
Tech Specs : 
Case: 
Diameter: 42mm
Material: 316L Stainless steel
Dial Colour: Fiorano Red
Movement: Japanese Miyota Chronograph Quartz
Water Resistance: 10ATM/330ft
Notes : the outer bezel clicks whilst being turned

Strap: 
Width: 20mm
Material: Italian grain leather
Colour: Black  
Fiorano® is a Trademark of Omologato for Class 14